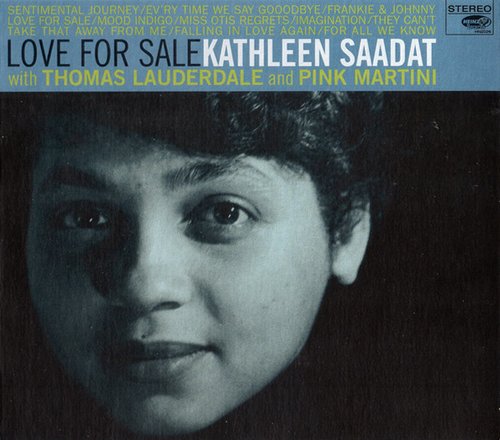 Artist:
Kathleen Saadat with Thomas Lauderdale and Pink Martini
Album:
Love for Sale
Genre:
Vocal Jazz
Label:
Heinz Records
Released:
2018
Quality:
FLAC (tracks+.cue)
Tracklist:
Sentimental Journey (Green-Brown-Homer) - 3:13
Ev'ry Time We Say Goodbye (Porter) - 3:56
Frankie & Johnny (Trad.) - 3:56
Love for Sale (Porter) - 4:06
Mood Indigo (Ellington-Bigard-Mills) - 3:42
Miss Otis Regrets (Porter) - 3:08
Imagination (Van Heusen-Burke) - 4:02
They Can't Take That Away from Me (Gershwin-Gershwin) - 2:57
Falling in Love Again (Hollander) - 3:45
For All We Know (Coots-Lewis) - 3:58
DOWNLOAD FROM FILECAT.NET >>>
Oregon civil rights activist Kathleen Saadat is one of the state's most respected and admired leaders. A graduate of Reed College, she has been on the front lines of political and social activism for over 40 years. She was the Affirmative Action Director of Oregon under Governor Neil Goldschmidt, and was one of the drafters of the Portland Civil Rights Ordinance. She has tirelessly worked for social justice, advocating for people of color, women, the LGBQ community, and the economically disadvantaged, among others.
"Kathleen is the social conscience of Oregon," says Thomas Lauderdale, who became friends with Kathleen in the summer of 1991, when both were working for City Commissioner Gretchen Kafoury and Lauderdale was contemplating a political career. "Kathleen taught me everything I know about politics… how to communicate, how important it is to do things in the right order, how to build coalitions." Lauderdale also discovered something not many people know about Kathleen: she is an extraordinary singer.
Through the years, Kathleen and Thomas would get together to sing for fun. One day, Kathleen requested that they record a couple of songs together for her family and friends. Thomas hatched a plan to record a full-blown album of jazz standards featuring Saadat's rich lead vocals.
Love for Sale, created between touring and recording projects with Pink Martini, is the result of this eight-year journey. Gathering members of Pink Martini to act as Saadat's backing band, and anchoring the project from his piano, Thomas curated this ten-song album of favorite standards, sung with grace and gravitas by Kathleen. The result is a nostalgic and elegant album, a showcase of an undiscovered talent, and a timeless tribute to the golden age of American song.
"I continue to be amazed that this is happening,"says Saadat. "I never expected to be making a singing debut at seventy-seven years old. It is both scary and fun to try something new, especially since singing in public was never on my bucket list. Thank you Thomas and Pink Martini."
"Through the years I've worked with great singers," says Lauderdale, "such as China Forbes, Storm Large, Jimmy Scott, Rufus Wainwright, Rita Moreno, the von Trapps. Kathleen is at that caliber. Had she ever considered a career in music instead of political activism, I believe she would be known all around the world, she's that good. Her phrasing is unlike anyone else's. Like her political speeches, she means every word she sings. One can't learn that. You either have it, or you don't. Kathleen HAS it!"