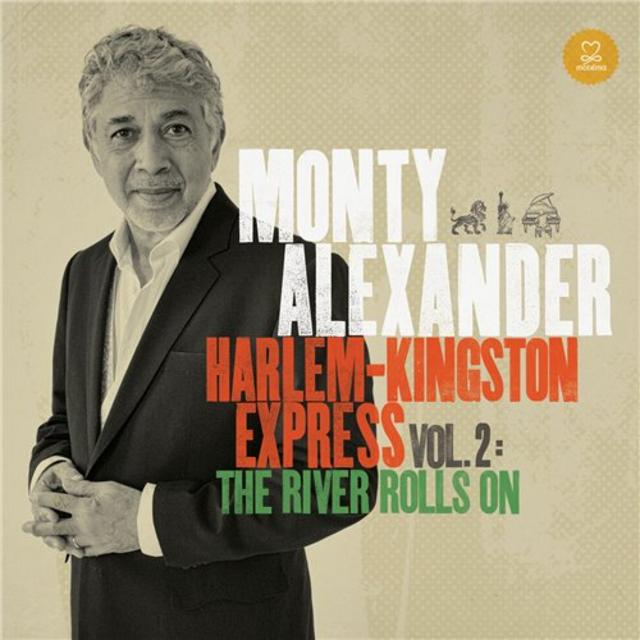 Artist:
Monty Alexander
Album:
Harlem-Kingston Express, Vol. 2: The River Rolls On
Genre:
Post-Bop, World Fusion
Label:
Motéma Music
Released:
2014
Quality:
FLAC (tracks+.cue)
Tracklist:
Hurricane Come and Gone - Moonlight City
People Make the World Go Round
Concierto de Aranjuez
Sleaky
Trust
The Harder They Come
The River Rolls On (feat. Caterina Zapponi)
What's Going On (Wa'a Gwan)
Love Notes (feat. George Benson, Ramsey Lewis, Joe Sample)
Skamento
Linstead Market (Live)
Redemption Song (feat. Wendel Ferraro) [Live]
Regulator (Live)
DOWNLOAD FROM FILECAT.NET >>>
Throughout a career spanning six decades, the New York-based artist Monty Alexander has garnered acclaim for bridging American jazz, popular song, and the music of his native Jamaica. The New York Times recently described him as "an effervescent pianist and one of Jamaica's proudest musical exports." The Wall Street Journal has by turns called him "maybe the first—and certainly the most successful—musician to combine Jamaican music with North American jazz" and said that, "Alexander's blend of jazz and reggae makes for an outrageously good time." On April 8, just before Alexander celebrates his 70th birthday, Motéma Music will release Harlem-Kingston Express Vol. 2: The River Rolls On, the most seamless integration to date of Alexander's dual musical heritage.
Although it accomplished a (seemingly) simple musical hybridization, the eponymous first release from the Harlem-Kingston Express was not a concept album—at least not deliberately so. The recording came about serendipitously: It is a 2011 concert at Dizzy's Club Coca Cola in New York City, for which Alexander merged his jazz trio with a full Jamaican rhythm section, recorded for broadcast on Sirius XM. Jana Herzen, founder of Motéma Music, was so moved by the set that she arranged to release it on her label. The album turned out to be one of the most acclaimed entries in Alexander's vast body of work, which includes over 70 recordings with Alexander as leader. Harlem-Kingston Express elicited an equally warm embrace from reggae and jazz fans and critics, and was nominated for a 2012 GRAMMY for Best Reggae Album.
For the new album, Alexander convened the band for its first studio recordings—primarily at New York City's Avatar and Dubway. In addition to band members from the project's first volume—Alexander (piano), Hassan Shakur (acoustic bass), Karl Wright and Obed Calvaire (drums), Andy Bassford and Yotam Silberstein (guitars)—the collection features the keyboardist Earl Appleton, the electric bassist Joshua Thomas and the percussionist Courtney Panton. They perform a mix of Alexander originals (which are themselves steeped in both Caribbean music and American jazz and R&B) and Alexander interpretations of classics, from the soul hits "People Make the World Go Round" and "What's Going On" (here with the alias "Wa'a Gwan") to Jimmy Cliff's reggae landmark "The Harder They Come." Alexander's wife, the French-Italian chanteuse Caterina Zapponi, joins him and the band on the album's title track.
The album also includes Alexander's "Love Notes," featuring his friends George Benson, Ramsey Lewis and Joe Sample; a live version of Bob Marley's "Redemption Song," recorded live in 2005 with vocalist Wendel Ferraro; and previously unreleased live recordings of the Jamaican folk song "Linstead Market" and Alexander's "Regulator (Reggae-Later)," both from the original 2011 Harlem-Kingston Express concert at Dizzy's Club Coca Cola.
Harlem-Kingston Express Vol. 2: The River Rolls On at once encapsulates the current moment in Alexander's singular career and finds him returning to its earlier stages: both his teenage years, when he played on sessions helmed by pioneering reggae producers Clement "Coxsone" Dodd, Duke Reid and Chris Blackwell, and his first decades in the U.S., when he had the occasion to record and perform with icons such as Frank Sinatra, Milt Jackson and Ray Brown, among countless others.