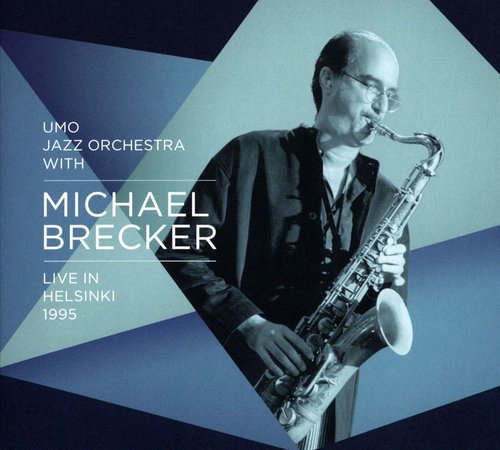 Artist:
UMO Jazz Orchestra & Michael Brecker
Album:
Live in Helsinki 1995
Genre:
Post-Bop, Contemporary Jazz
Label:
Random Act Records
Released:
2015
Quality:
FLAC (tracks+.cue)
Tracklist:
Invitation (Kaper) - 5:06
Slang (Brecker) - 6:21
Andrea's Song (Clark) - 6:21
Nica's Dream (Silver) - 7:04
Ginare (Lintinen) - 10:07
The Meaning of the Blues (Troup) - 6:06
The Big Picture (Mendoza) - 5:30
Song for Barry (Brecker) - 10:28
Nutville (Silver) - 11:36
Never Alone (Brecker) - 5:13
DOWNLOAD FROM FILECAT.NET >>>
If your fondness for big-band jazz includes searching for hidden treasures, here's a recently uncovered gem that should more than gladden your spirit: a concert recording from 1995 by Finland's superb UMO Jazz Orchestra featuring the renowned tenor saxophonist Michael Brecker who left us far too soon a dozen years later at age fifty-seven. The impeccably preserved performance at Helsinki's Royal Cotton Club finds Brecker in his customarily assertive mode, sprinting through ten engaging compositions that run the gamut from bop to ballads to funk.
Even though rapid tempos predominate (and are enthusiastically received by the audience), Brecker is best-served by the ballads (Chuck Clark's "Andrea's Song," Bobby Troup's "The Meaning of the Blues," his own "Never Alone"), on which he is able to employ his remarkable technique in the service of an earnest and impressive warmth of spirit and harmonic awareness. Brecker solos on every number including one (Kimo Lintinen's "Ginare") in tandem with UMO's youngest member, then-twenty-four-year-old tenor saxophonist Manuel Dunkel who writes in the album's liner notes about the singular experience of trading volleys with one of his musical heroes.
The concert includes a pair of songs ("Nica's Dream," "Nutville") by pianist Horace Silver, in whose ensemble Brecker spent several of his formative years before teaming with his brother, trumpeter Randy Brecker, to form the Brecker Brothers band and later co-leading the all-star group Steps Ahead with vibraphonist Mike Mainieri. Besides "Never Alone," Brecker wrote the incisive "Slang" and rhythmic "Song for Barry" (which reminds one of the compositional mindset of another well-known tenor saxophonist, Bob Mintzer). The performance opens with the album's lone standard, Bronislau Kaper's "Invitation," scored in flag-waving fashion by Kenny Berger, and also includes Vince Mendoza's tasteful "Big Picture." Needless to say, Brecker is masterful on every number. Aside from Dunkel, UMO's splendid soloists are unnamed.
For fans of Michael Brecker, Live in Helsinki 1995 will no doubt be akin to finding a cache of pure gold. For those (and there must surely be some) who haven't yet made Brecker's acquaintance, it may serve as a suitable introduction to one of the twentieth century's preeminent jazz tenor saxophonists.
Review by Jack Bowers