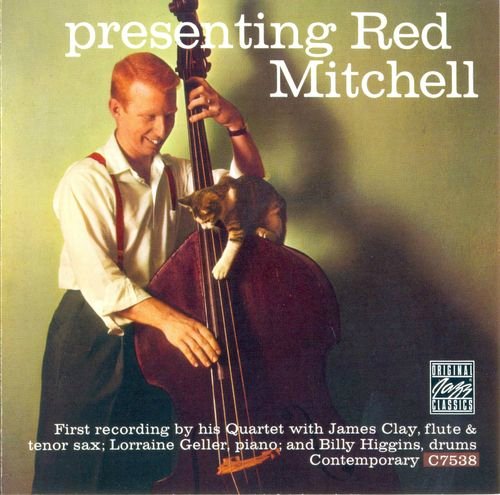 Artist:
Red Mitchell
Album:
Presenting Red Mitchell
Genre:
Cool, Hard Bop
Label:
Original Jazz Classics, Fantasy
Released:
1957/1992
Quality:
FLAC (tracks+.cue)
Tracklist:
Scrapple From The Apple 5:27
Rainy Night 5:20
I Thought Of You 5:17
Out Of The Blue 6:15
Paul`s Pal 6:55
Sandu 5:31
Cheek To Cheek 8:06
DOWNLOAD FROM FILECAT.NET >>>
Bassist Red Mitchell, who had led two fairly obscure sessions for Bethlehem in 1955, came up with a gem on his lone Contemporary set as a leader (which has been reissued as this CD). Based in Los Angeles at the time, Mitchell utilized pianist Lorraine Geller and two up-and-coming players: James Clay (who splits his time between tenor and flute) and, in one of his first recording sessions, drummer Billy Higgins. The quartet performs then-recent tunes by Miles Davis, Sonny Rollins and Clifford Brown ("Sandu"), a pair of Mitchell originals, "Scrapple From the Apple" and "Cheek to Cheek." Despite Higgins' and (to a lesser extent) Clay's connections with Ornette Coleman, the music is strictly high-quality modern mainstream bop of the era. Easily recommended to collectors of straight-ahead jazz.
Review by Scott Yanow