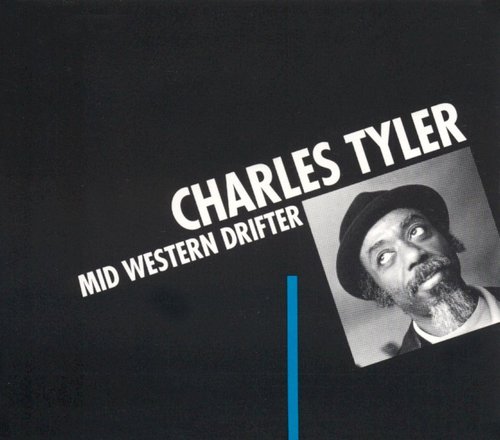 Artist:
Charles Tyler
Album:
Mid Western Drifter
Genre:
Free Jazz
Label:
Bleu Regard
Released:
1992
Quality:
FLAC (tracks+.cue)
Tracklist:
Mid Western Drifter (Tyler) - 9:50
Life Can Be So Beautiful (Tyler) - 4:21
There Was a Flower Near Napoli (Tyler) - 8:22
Photo of Cecil Taylor and Jimmy Lyons (Tyler) - 8:53
Blue Monk (Monk) - 8:16
Man Alone (for Chris McGregor) (Tyler) - 6:31
'Round Midnight (Monk) - 10:13
DOWNLOAD FROM FILECAT.NET >>>
Personnel:

Charles Tyler - alto saxophone, vocals
Curtis Clark - piano
Didier Levallet - bass
The final recording by the criminally ignored saxophonist Charles Tyler is, in essence, a manifesto of his entire art. Performed in trio with bassist Didier Levallet and pianist Curtis Clark, Tyler, in composition, poetry, and, of course, blowing, reveals in the flesh someone that has almost totally disappeared form the jazz scene: the minstrel who tells the story of his becoming. Mingus did it, Cecil Taylor still does it albeit in an obtuse fashion, Matthew Shipp and Charles Gayle do it, but Tyler did it as an entire enterprise: his storytelling and poetry and compositions were inseparable from the sounds he made on the horn or form the tunes he played from the jazz canon. On Mid Western Drifter, Tyler tells his story in poetry as a musician searching for a route. In the poem, the route becomes the path itself and the destination is revealed the minute he puts the horn into his mouth. With the shimmering skeins of notes employed by Clark as a tracking melody, Tyler solos blue, lonesome, and spiritual. Two tracks later Tyler moves through to the spirit of Monk in both "Blue Monk" and "'Round Midnight," with free jazz seeping in through the arrangements to add a more modal feel to the intricate harmonics of both tunes. With Levallet beginning with a near classical solo in counterpoint to both rhythm and melody of the original, it's up to Tyler to bring "Blue Monk" back -- as a ballad! On the latter, a spare, scintillating piano line extends itself into an intervallic series of minor chords that become augmented sevenths and finally give way to Tyler's phrasing of Monk's melody. His generosity with the body of the tune and the soloing comes from the confidence in his own abilities as soloist. This isn't some loose cannon session where anything goes. Here, free jazz, blues, traditional music, and folk songs are wound purposefully into a whole that celebrates the nature of creation in musical process. Tyler's blowing and leadership are those of a man who has yet to be tagged with the term "legend," but, as evidenced by this album, he deserves it. He saved the best for last.
Review by Thom Jurek