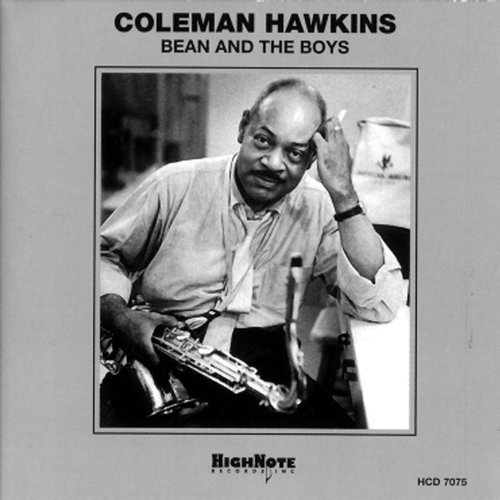 Artist:
Coleman Hawkins
Album:
Bean and the Boys
Genre:
Swing, Mainstream Jazz
Label:
HighNote Records
Released:
2001
Quality:
FLAC (tracks+.cue)
Tracklist:
Disorder at the Border (Hawkins) - 6:40
Yesterdays (Kern-Harbach) - 4:36
Bean and the Boys (Hawkins) - 5:35
Disorder at the Border (Hawkins) - 3:23
Rifftide (Hawkins) - 5:42
Body and Soul (Eyton-Green-Heyman-Sour) - 3:42
The Man I Love (Gershwin-Gershwin) - 6:23
Avalon (DeSylva-Jolson-Rose) - 7:37
DOWNLOAD FROM FILECAT.NET >>>
Coleman Hawkins is featured with several different groups in this collection of broadcasts recorded between 1950 and 1958. Whether the setting is swing or bop, his majestic tone and inventive improvisations stand the test of time very well. Hawkins' "Rifftide" (based on the changes to "Oh Lady Be Good") is a solid performance that originates from the Apollo Theater with an unknown but very good rhythm section. Pianist Kenny Drew, trombonist Bennie Green, bassist Tommy Potter, and drummer Art Taylor back the tenor saxophonist on his up-tempo blues "Disorder at the Border" and a foot-tapping take of "The Man I Love," while Green sits out the inevitable request for "Body and Soul," heard in yet another rhapsodic interpretation. Johnny Acea, Al Lucas, and Osie Johnson provide the support for yet another swinging take of "Disorder at the Border" as well as a dramatic reading of "Yesterdays," while tenor saxophonist Illinois Jacquet trades solos with Hawkins on a whirlwind romp through the leader's "Bean and the Boys" (a reworking of "Lover, Come Back to Me"). Wrapping up the CD is a nonet performance of "Avalon," which includes Pee Wee Russell, Charlie Shavers, J. C. Higginbotham, and Willie "The Lion" Smith in a cooking Dixieland setting. This reissue should be an essential acquisition for fans of Coleman Hawkins.
Review by Ken Dryden