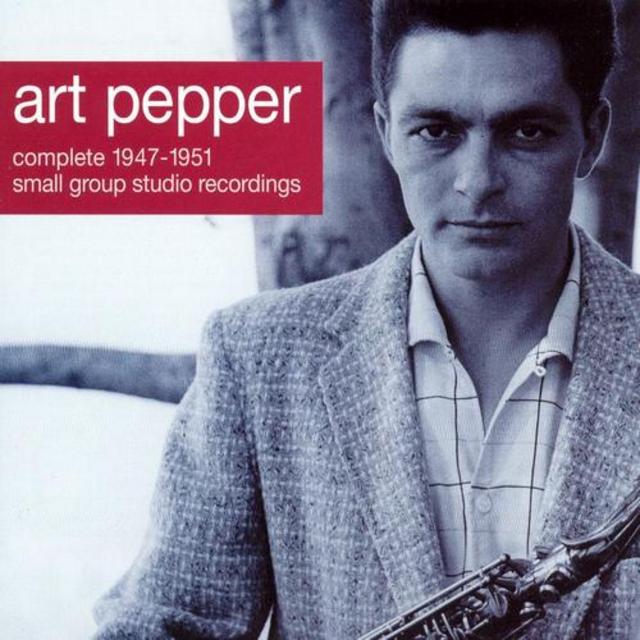 Artist:
Art Pepper
Album:
Complete 1947-1951 Small Group Studio Recordings
Genre:
Cool, West Coast Jazz
Label:
Definitive Records
Released:
2001
Quality:
FLAC (tracks+.cue)
Tracklist:
Sa-Frantic (Safranski) - 2:57
Jumpin' for Jane (Feather) - 2:44
Turmoil (Rugolo) - 2:41
Bass Mood (Safranski-Rugolo) - 3:07
The Continental (Conrad-Magidson) - 2:44
Prelude to a Nightmare (Gonzales) - 2:21
Popo (Rogers) - 3:03
Didi (Rogers) - 2:28
Four Mothers (Giuffre) - 2:50
Over the Rainbow (Harburg-Arlen) - 3:02
Apropos (Rogers) - 2:40
Sam and the Lady (Rogers) - 3:09
Pooch McGooch (Russo) - 2:42
All of Me (Sims-Marks) - 2:26
Back in Your Own Backyard (Rose-Jolson-Dreyer) - 2:29
The Count on Rush Street (Russo) - 3:08
DOWNLOAD FROM FILECAT.NET >>>
Since the 1979 publication of Straight Life, Art Pepper's ironically titled autobiography, the late saxophonist has been as well-known for his sociopathic tendencies as for his body of creative work. Thanks to a lifelong drug addiction that he never completely put behind him, Pepper spent most of his adult life in prison. In the years before and after his various incarcerations, however, he would pick up the alto and create great jazz with an originality that placed him on a level with the music's elite. Complete 1947-1951 Small Group Studio Recordings features a relatively callow, twentysomething Pepper before his flaws brought him down, in the company of various members of the Stan Kenton band and other well-known West Coast jazz musicians of the late '40s and early '50s. This compilation of his early small-band work is hardly perfect (two tracks fronted by the ersatz bop vocalist Babs Gonzales are so corny they're downright annoying), yet it's invaluable for the glimpse it provides of early Pepper and the Los Angeles modern jazz scene of the time. The first four tracks were done under the nominal leadership of Kenton bassist Eddie Safranski, but it's arranger Pete Rugolo who defines the group sound. Like his writing for the Kenton big band, Rugolo's septet charts are well-crafted and creatively done; in particular the up-tempo "Turmoil," which in terms of form and structure is one of the more ambitious small-group compositions of the era. After the Gonzales trifles, the album picks up with tracks led by trumpeter/arranger Shorty Rogers and drummer Shelly Manne -- the latter's group featuring stellar arrangements by the redoubtable Kenton-ite Bill Russo. Rogers comes off very well. His trumpet playing is both lyrical and exciting, and his tunes are harmonically and dynamically rich. While Pepper plays wonderfully, he's not always the centerpiece. Still, it's intriguing to hear these early sides; his tone and rhythms owe much to Charlie Parker, but his lines are his own. Even at this early stage, Pepper was well on the way to carving out his own distinctive musical personality. His solo showcase on Rogers' arrangement of "Over the Rainbow" reveals Pepper as a master balladist. It seems apparent that at this point he was more comfortable in his own skin at medium and slower tempos. It's there that he sounds most like himself. The sensitivity and passion that increasingly characterized his work during the course of his career are already in full bloom here. This is must listening for Pepper fans -- an early sketch of a man who over the next three decades would steadily become one of jazz's greatest and most complex artists.
Review by Chris Kelsey