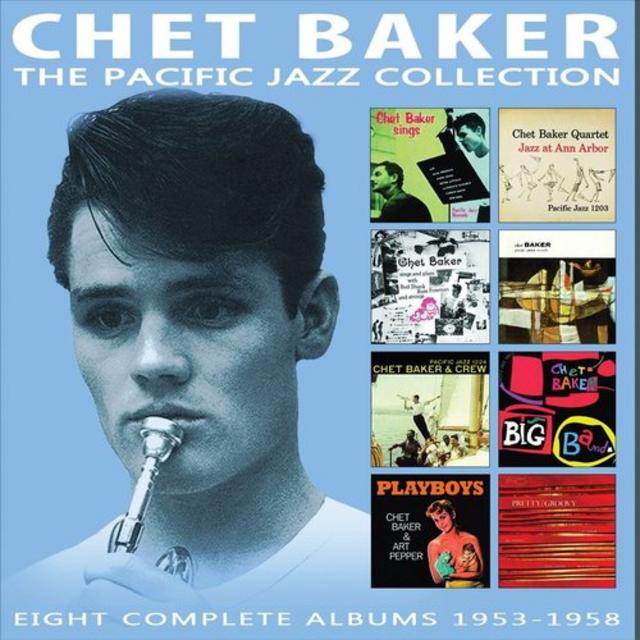 Artist:
Chet Baker
Album:
The Pacific Jazz Collection
Genre:
Cool
Label:
Enlightenment
Released:
2016
Quality:
FLAC (tracks+.cue)
Tracklist:
CD 1:
Chet Baker Quartet featuring Russ Freeman (1953)

Long Ago (And Far Away) (2:16)
Band Aid (2:48)
The Thrill Is Gone (2:47)
Chet Baker Sings (1954)
But Not for Me (3:02)
Time After Time (2:44)
My Funny Valentine (2:18)
I Fall in Love Too Easily (3:18)
There Will Never Be Another You (2:57)
I Get Along Without You Very Well (2:57)
The Thrill Is Gone (2:48)
Look for a Silver Lining (2:38)
Jazz at Ann Arbor (1955)
Line for Lyons (6:57)
Lover Man (5:59)
My Funny Valentine (5:30)
Maid in Mexico (5:17)
Stella by Starlight (4:23)
My Old Flame (6:06)
Headline (5:05)
Russ Job (6:09)
CD 2:
Chet Baker Sings and Plays (1955)

Let's Get Lost (3:46)
This Is Always (3:07)
Long Ago (And Far Away) (3:58)
Someone to Watch over Me (3:02)
Just Friends (2:43)
I Wish I Knew (3:59)
Daybreak (2:41)
You Don't Know What Love Is (4:51)
Grey December (3:42)
I Remember You (3:15)
The Trumpet Artistry of Chet Baker (1955)
I'm Glad There Is You (3:17)
Moon Love (3:19)
Moonlight Becomes You (2:56)
Imagination (3:03)
Little Man You've Had a Busy Day (4:45)
Goodbye (3:45)
All the Things You Are (2:57)
No Ties (3:00)
Happy Little Sunbeam (2:44)
Bea's Flat (3:02)
Russ Job (4:25)
Tommy Hawk (3:43)
CD 3:
Chet Baker & Crew (1956)

To Mickey's Memory (5:16)
Slightly Above Moderate (7:01)
Halema (3:53)
Revelation (4:00)
Something for Liza (4:08)
Lucius Lu (5:37)
Worryin' the Life Out of Me (3:01)
Medium Rock (5:33)
Chet Baker Big Band (1956)
A Foggy Day (3:29)
Mythe (4:27)
Worryin' the Life Out of Me (5:23)
Chet (4:12)
Not Too Slow (3:53)
Phil's Blues (4:38)
Darn That Dream (3:31)
Dinah (4:41)
V-Line (3:26)
Tenderly (4:06)
CD 4:
Playboys (1956)

For Minors Only (4:01)
Minor-Yours (6:41)
Resonant Emotions (5:41)
Tynan Tyme (5:31)
Picture of Heath (6:43)
For Miles and Miles (6:23)
C.T.A. (5:10)
Quartet: Russ Freeman/Chet Baker (1957)
Love Nest (4:20)
Fan Tan (5:43)
Summer Sketch (4:39)
An Afternoon at Home (5:13)
Say When (5:04)
Lush Life (4:57)
Amblin' (7:15)
Hugo Hurwhey (4:27)
DOWNLOAD FROM FILECAT.NET >>>
A master of the trumpet and a much-heralded vocalist, Chet Baker s string of classic albums and his seemingly effortless cool style have earned him a legendary reputation which still rivals that of any other jazz musician. Esteemed jazz historian Dave Gelly described the trumpeter s image as a blend of James Dean, Sinatra and Bix, rolled into one . A musical icon of the 1950s and 60s, Baker s playing, singing and style would go on to influence countless others who came along in his wake. This four disc collection, containing over five hours of music in total, brings together the finest records made by Chet Baker for Pacific Jazz. Demonstrating the creation of a true jazz icon and tracking his development from his earliest recordings to his departure from the label with whom he made his name, these albums are presented here faithfully remastered and in the best possible quality, and form not just the perfect introduction to this master musician, but equally provide an a enthralling glimpse of an essential contribution to American musical history.