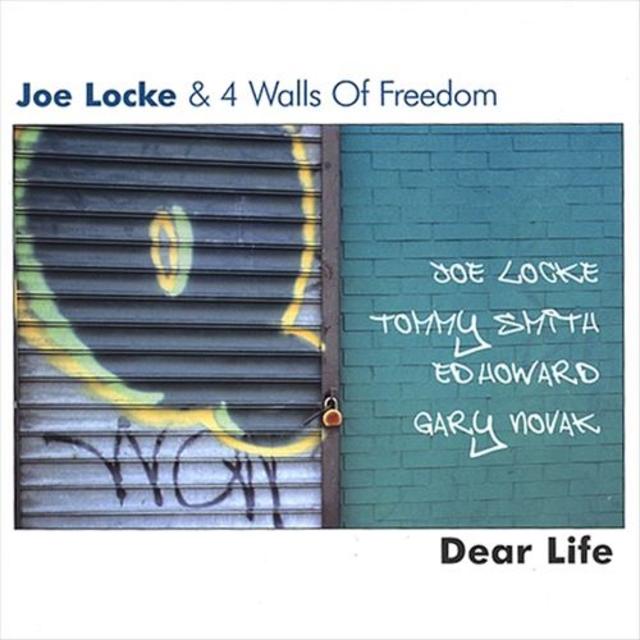 Artist:
Joe Locke & 4 Walls of Freedom
Album:
Dear Life
Genre:
Hard Bop, Post-Bop
Label:
Sirocco Jazz Limited
Released:
2004
Quality:
FLAC (tracks+.cue)
Tracklist:
Wind in Your Willow (Locke) - 11:07
Dear Life (Locke) - 7:38
Cut and Paste (Carter) - 5:16
Eva (Locke) - 5:48
Ennui (Locke) - 5:53
For B.B. (Smith) - 6:43
Manhattan Rain (Rosnes) - 3:26
Malonius (Locke) - 5:55
Verrazano Moon (Locke) - 5:54
DOWNLOAD FROM FILECAT.NET >>>
Personnel:

Joe Locke - vibraphone, marimba
Tommy Smith - tenor saxophone
Ed Howard - bass
Gary Novak - drums
Following one of the most critically acclaimed records of your career can be tough; doubly so when one of the key group members has tragically passed on. Vibraphonist Joe Locke, who scored big with 2003's 4 Walls of Freedom , was faced with exactly that challenge. Between the time the album was recorded and released tenor saxophonist Bob Berg met with a tragic accident, leaving the future of the ensemble in serious question. A year later Locke has managed to retain the feel of the original band while replacing two members and deliver Dear Life , another impassioned recording of contemporary post bop.
Also gone from the group is bassist James Genus, now replaced by Ed Howard, leaving Gary Novak the only other original member; but between him and Locke they manage to maintain their signature rhythmic drive. Howard doesn't swing quite as hard as Genus, nor does Scottish saxophonist Tommy Smith burn quite as bright as Berg, but they both bring their own personalities to the project, which results in an evolution of sorts.
Smith may not have the same level of energy, but he does have a robust sound that combines some of the post-Coltrane elements of players like Berg and Michael Brecker with a bit of the Nordic cool of Jan Garbarek. His playing on the opening track, "Wind In Your Willow," is the perfect confluence of these two styles. Propelled by Novak's powerful drumming, this track comes closest to approximating the sheer energy and vitality of the first release.
But just because the album doesn't have the same kind of energy as the first record doesn't mean it isn't as intense or immediate. The title track is a poignant waltz featuring the kind of memorable melody that Locke is becoming known for. Locke's mallet work places him on a level with contemporary players including Steve Nelson and Stefon Harris, but his style is more direct, with a strong and absorbing lyrical sense.
Unlike the first record, which consisted only of Locke compositions, Dear Life also features some interesting choices from other writers. "Cut and Paste," a more recent Ron Carter composition, is a relatively spare structure that provides the foundation for short but fiery solos from Locke, this time using his midi vibes, and Smith; Novak, a sadly underappreciated drummer, although clearly not by this ensemble, contributes some especially strong work. Smith's contribution, "For B.B.," demonstrates a more episodic writing style than Locke's; the tune's middle section also swings harder than anything else on the record, and Howard is a strong component.
With an album that manages to retain the successful elements of its predecessor while, at the same time, going in new places with a revamped line-up, Dear Life is another noteworthy effort from Locke, who seems to be constantly gaining ground as a writer, composer and bandleader.
Review by John Kelman