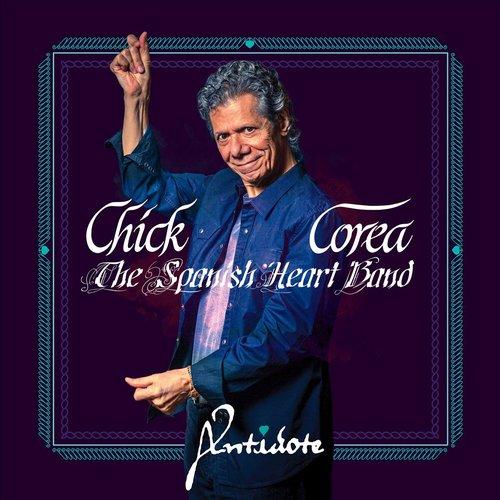 Artist:
Chick Corea & The Spanish Heart Band
Album:
Antidote
Genre:
Fusion, Post-Bop, Latin Jazz
Label:
Concord Jazz
Released:
2019
Quality:
FLAC (tracks+.cue)
Tracklist:
Antidote (9:15)
Duende (10:13)
The Yellow Nimbus - Part 1 (5:48)
The Yellow Nimbus - Part 2 (5:57)
Prelude to My Spanish Heart (1:11)
My Spanish Heart (6:58)
Armando's Rhumba (8:02)
Desafinado (5:05)
Zyryab (11:57)
Pas de deux (1:40)
Admiration (8:29)
DOWNLOAD FROM FILECAT.NET >>>
Personnel:

Chick Corea - piano, keyboards
Marcus Gilmore - drums
Carlitos del Puerto - bass
Jorge Pardo - flute, saxophone
Nino Josele - guitar
Steve Davis - trombone
Michael Rodriguez - trumpet
Luisito Quintero - percussion
Nino de los Reyes - dancer
Ruben Blades (#1,6), Gayle Moran Corea (#5,6), Maria Bianca (#8) - vocals
Antidote is a completely forward-thinking album, yet its roots date to the 1960s, near the beginning of his career when he played in the bands of Mongo Santamaria and Willie Bobo. During this period, he encountered the great Latin bandleaders of the era including Machito, Tito Puente, Ray Barretto, and Eddie Palmieri. In 1972, he penned the iconic composition "Spain," inspired by Joaquin Rodrigo's Concierto de Aranjuez. In 1976, Corea issued his milestone My Spanish Heart, that married fusion to Latin music. In 1982, he delivered another landmark with the Latin-tinged offering Touchstone, which featured flamenco master Paco De Lucia, and in 1990, Corea played on his Zyryab. The Spanish Heart Band is anchored by bassist Carlitos del Puerto, drummer Marcus Gilmore, and percussionist Luisito Quintero. Frontline players include nuevo flamenco/jazz guitarist Nino Josele, flutist and saxophonist Jorge Pardo (a longtime member of de Lucia's group), trumpeter Michael Rodriguez, and trombonist Steve Davis. There are also three guest vocalists: Panamanian salsero Ruben Blades, Brazilian singer/songwriter Maria Bianca, who delivers an elegant read of Tom Jobim's "Desafinado," and Corea's life partner, Gayle Moran Corea (who sings the entire choir part on "My Spanish Heart").
The material on Antidote includes work from the pianist's back catalog, a classical piece, and new compositions. The opening title was penned for Blades, who delivers it with class, conviction, and elegance. It's a meld of salsa and flamenco with Corea's piano, brass, and spiky percussion leading the singer. Josele nails a tight, fluid solo, followed by synth and then sharp, polyrhythmic piano montunos underscored by a smoking trombone break. The revisioned "Duende" (originally from Touchstone) is languid, ushered in by dark minor chords and shakers and spiraling along a newly harmonized melody line. Another Touchstone number, "The Yellow Nimbus," is in two parts with shining interplay between the pianist, percussionist, and guitarist before Pardo's moaning flute solo transports the listener to another time and place. Blades appears again on a reworked "My Spanish Heart," with Corea on acoustic and electric keyboards, percussion, a driving bassline, and a trap kit. "Armando's Rumba," also from My Spanish Heart, is recontextualized with a post-bop horn chart in a piano-driven fusion of salsa and flamenco, kissed by emotive trumpet and guitar breaks. The other covers include De Lucia's "Zyryab," with glorious flute and piano interplay. Igor Stravinsky's "Pas De Deux" features an excavated harmony that joins it to the album's material. Closer "Admiration" was written for this band; it's performed with a lithe Latin jazz groove and highlights Pardo's flute, Quintero's syncopated palmas (handclaps), Josele's sweeping guitar, and guest flamenco dancer Nino de los Reyes. Corea has been on a near-prolific roll over the past decade, but Antidote, his 99th album, stands with the finest recordings in his entire career.
Review by Thom Jurek