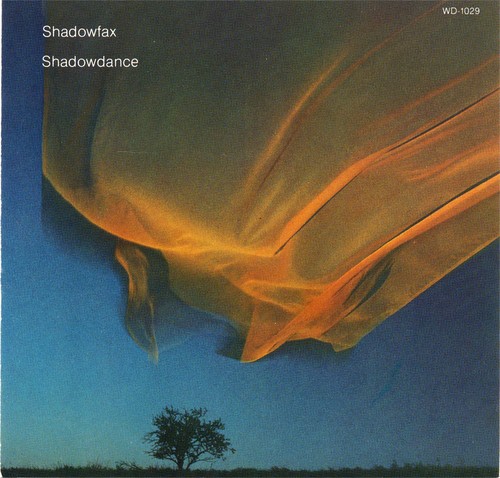 Artist:
Shadowfax
Album:
Shadowdance
Genre:
Chamber Jazz, New Age
Label:
Windham Hill
Released:
1983
Quality:
FLAC (tracks+.cue)
Tracklist:
New Electric India (5:12)
Watercourse Way (5:06)
Ghost Bird (5:04)
Shadowdance (5:20)
Brown Rice/Karmapa Chenno (4:18)
Distant Voices (3:46)
A Song for My Brother (9:04)
DOWNLOAD FROM FILECAT.NET >>>
Released in the wake of the success of Shadowfax's 1982 eponymous LP, Shadowdance saw the band beginning to take a new direction. First, the quartet was augmented to a sextet with the addition of keyboardist Jared Stewart and violinist Jamil Szmadzinski. Second, the dreamy landscapes and delicate melodies found on the three previous albums are relegated in the background to make room for jazz-rock and ethnic fusion anthems, a trend epitomized by the inclusion of a Don Cherry medley, "Brown Rice/Karmapa Chenno." The album opener, "New Electric India," sets the tone: a jazz-rock rhythm section topped by an Indian-like melody on violin -- enough to make Shadowfax fans check if they had not put a Jean-Luc Ponty or Shankar record on by mistake. Yet, this new sound suited the band very well. The title track showcases lots of percussion work underpinning a simple but effective melody. Lovers of the band's early work turned their attention to "Watercourse Way" and "Distant Voices," the latter a nice 12-string guitar and flute ballad. "A Song for My Brother," one of the group's longest recorded tracks at nine minutes, flirted with progressive rock. It packs a lot of emotion in its main theme, thanks to G.E. Stinson's soaring electric guitar. A transitional album, Shadowdance captured the band at its creative peak. ~ Francois Couture, All Music Guide
Shadowdance contains interesting and varied music ranging from new age soundscapes to ethnic fusion to jazz-rock. There's even a progressive element on the title track that's reminiscent of Mike Oldfield's early work. Four of the seven tracks work extremely well, with the jazz-rock opener "New Electric India", the title song and the 12-string guitar and flute ballad "Distant Voices" being my favorite pieces.
There are two songs that don't do much for me and these keep the album from rating higher. The hissing "brown ricccccccce" vocals of "Brown Rice/Karmapa Chenno" annoy me though the exotic music later in the song nearly makes up for it. The bigger problem is that the album ends weakly with its longest and least impressive track "A Song for My Brother." It makes for a pretentiously dull end to an otherwise fine effort