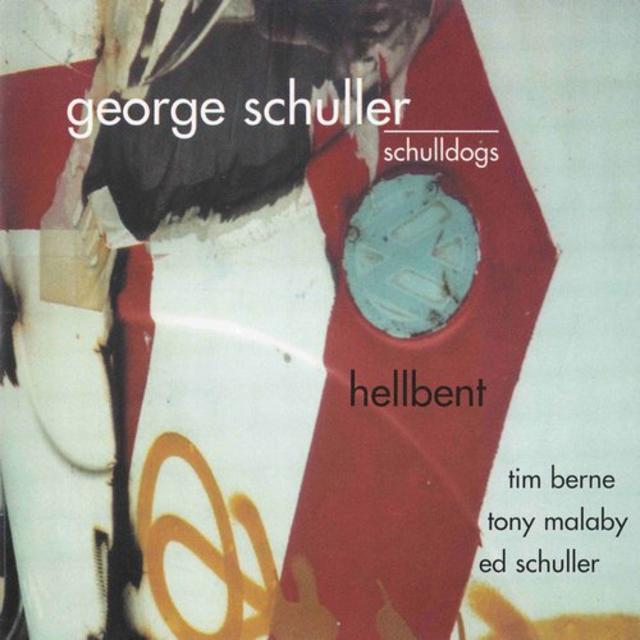 Artist:
George Schuller & Schulldogs
Album:
Hellbent
Genre:
Free Jazz, Avant-Garde Jazz
Label:
Playscape Recordings
Released:
2002
Quality:
FLAC (tracks+.cue)
Tracklist:
Pumpkins (Schuller) - 15:11
The Thaw (Schuller) - 7:30
Ripe (Schuller) - 17:20
Distant Cousin (Schuller) - 13:24
Slightly Round (Schuller) - 11:12
Band Vote (Schuller) - 6:50
DOWNLOAD FROM FILECAT.NET >>>
Personnel:

George Schuller - drums, shakers, whistles, bells
Tim Berne - alto saxophone
Tony Malaby - tenor saxophone
Ed Schuller - bass
Recorded live at a New Mexico venue, drummer George Schuller leads the charge through a set featuring two of the top improvising saxophonists in modern jazz, whereas the drummer's brother, bassist Ed Schuller, operates the bottom end in pronounced fashion. The band launches the festivities on Hellbent with the 15-minute piece "Pumpkins." Here, alto saxophonist Tim Berne commences with gut-wrenching, upper register squeaks and squeals, as the group eventually coalesces for sequences of climactically oriented interplay. In fact, Schuller may have composed this piece with Berne in mind -- witness the similarities to the saxophonist's long running Bloodcount ensembles. Either way, the quartet interrogates free bop, bouncy rhythms, and subtle dynamics amid a semi-structured mode of operations. The musicians pursue introspective dialogue while also gravitating towards intensely acrobatic exchanges and heated flurries. However, tenor saxophonist Tony Malaby and Berne seem at odds during the opening moments of the extended work, "Ripe." But one of the highlights of this affair features Schuller's abstract spin on Thelonious Monk's "Evidence" -- wherein the band navigates complex time signatures amid cleverly enacted bop escapades. Overall, this is a strong outing, although some of the extended works may have translated better during the live show, as the soloists expend quite a bit of time developing themes amid moments that lack cohesion or synergy. Otherwise, a solid effort!
Review by Glenn Astarita