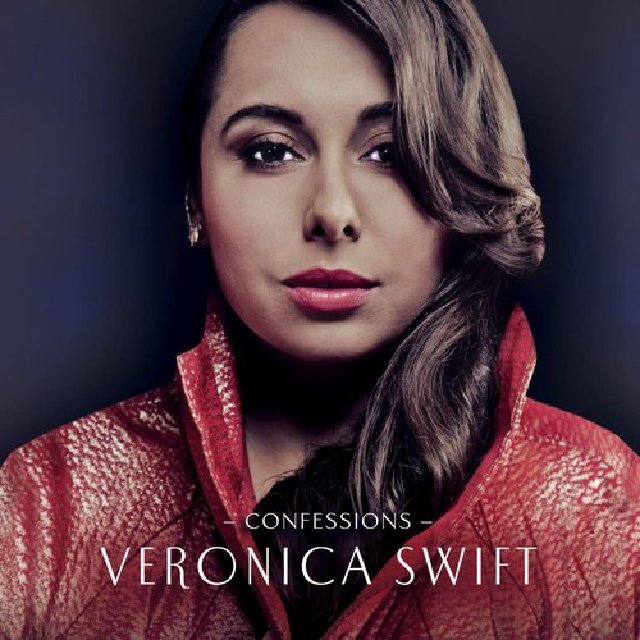 Artist:
Veronica Swift
Album:
Confessions
Genre:
Vocal Jazz
Label:
Mack Avenue Records
Released:
2019
Quality:
FLAC (tracks+.cue)
Tracklist:
You're Gonna Hear from Me (3:47)
A Little Taste (3:42)
Interlude (5:13)
Forget About the Boy (5:02)
A Stranger in Town (6:22)
I Don't Wanna Cry Anymore (3:08)
I Hope She Makes You Happy (4:24)
Confession/The Other Woman (6:43)
Gypsy in My Soul (3:45)
No Not Much (3:34)
I'm Hip (2:24)
No Regrets (3:29)
DOWNLOAD FROM FILECAT.NET >>>
Times change. In the Me Too era it is clearly politically incorrect for a female singer to sidle up to the microphone and huskily breathe "My Heart Belongs To Daddy" like Julie London used to do. Or even, for that matter, to lustily proclaim "Diamonds are a Girl's Best Friend" like Marilyn Monroe. But a residue of that sort of thing (it's called sex appeal) needs to remain, regardless.
Veronica Swift is the epitome of a modern female jazz singer. She can wear figure-hugging evening gowns and high heels, but she'll look her audience in their collective eye and state defiantly, "You're Gonna Hear from Me."
That's the one that goes, "Move over, sun and give me some sky; I've got these wings I'm eager to try." She comes back down to earth with a fine interpretation of Billie Holiday's "I Don't Want to Cry Anymore": "Oh, why can't I forget you; I know so well what is in store. A moment or two up in the clouds with you, Then back where I was before."
"Forget About the Boy" and her own bittersweet "I Hope She Makes You Happy" leaven the mix: love seen from different angles. Talking of which, there's "Confession/The Other Woman," an angle on love that is rarely celebrated in song.
Veronica Swift chooses her songs with great care. She grew up touring with her parents, jazz pianist Hod O'Brien and singer Stephanie Nakasian. So she knows the score.
She made her first appearance at Jazz at Lincoln Center when just 11 years old. In 2015 she won second place in the Thelonious Monk Jazz Competition and a year later headlined at the Telluride Jazz Festival. A residency at Birdland in New York followed, and in 2018 she began touring with trios fronted by pianists Emmet Cohen and Benny Green, both featured on this album.
Her songs are marvelously well-crafted performances rooted in tradition, but up-to-the-minute in execution. When Johnny Hodges wrote "A Little Taste" in 1947, he surely never expected that a vocal version would ever be sung by a woman. In his day, when you wrote songs about them, you put women on pedestals.
Review by Chris Mosey