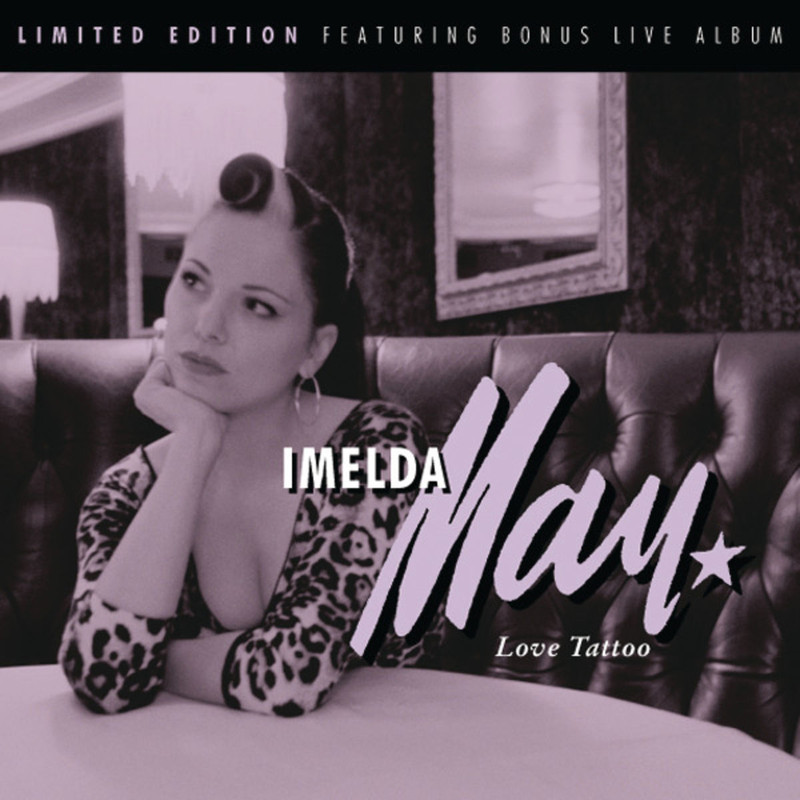 Artist:
Imelda May
Album:
Love Tattoo (Special Edition)
Genre:
Blues, Jump Blues, Rockabilly
Origin:
Ireland
Released:
2009
Quality:
mp3, 320 kbps
Tracklist:
CD 1:

Johnny Got A Boom Boom
Feel Me
Knock 123
Wild About My Lovin
Big Bad Handsome Man
Love Tattoo
Meet You At The Moon
Smokers' Song
Smotherin' Me
Falling In Love With You Again
It's Your Voodoo Working
Watcha Gonna Do

CD 2:
My Babe (Live)
Don't Do Me No Wrong (Live)
Big Bad Handsome Man (Live)
Wild About My Lovin (Live)
Falling In Love With You Again (Live)
Watcha Gonna Do (Live)
Johnny Got A Boom Boom (Live)
Rollin' and Tumblin' (Live)
DOWNLOAD FROM FILECAT.NET >>>
Love Tattoo is the debut solo album by Irish vocalist Imelda May, formerly of the roots outfit Blue Harlem. Originally released by the indie Foottapping imprint, it was later licensed in the U.K. by Ambassador and in the United States by Verve Forecast. May has captured the attention of the United Kingdom with its release, and for good reason. It's a striking gumbo of tough boogie-woogie, streetwise razor-edged rockabilly, intimate sultry vocal jazz, and sassy jump blues. May wrote all but two of the set's and produced the set; she also plays the bodhran, an Irish percussion instrument from antiquity. She's surrounded herself with an ace band that includes her husband, guitarist Darrell Higham, trumpeter Dave Priseman (who also plays flügelhorn and percussion), pianist and organist Danny McCormack, bassist Al Gare, and drummer Dean Beresford. The kickoff is the stomping rockabilly of "Johnny Got a Boom Boom" (infer what you might from the title). With a slapping double bassline intro, the drum kit latches on and takes it for another eight measures before Higham's nasty guitar begins its cutting strut. But May's vocal tops it all and swaggers confidently with its expression of raw sensuality. This is a love song from the streets, but it isn't trashy. It's got its own kind of in-your-face class. Contrast this with the gorgeous bluesy ballad "Knock 123," with its slow walking piano and basslines and a halting guitar figure, and May's voice all croon and caress. The title track is a wild stomp and roll where blues, rock & roll, country, and boogie collide behind her blues shout. May is a trained vocalist to be sure, but when the material calls for it, her voice contains a certain rough grain earthy, raw, and full of unbridled passion. It's even evident in the country ballad "Falling in Love with You Again" (one of the tracks where her bodhran can be heard prominently). The lilt, grace, and haggard elegance of her voice reveal an entire well of feeling that seems to bubble up effortlessly yet without artifice. The entire album is deliciously and unabashedly retro, but comes off as spontaneous, fresh, and full of adventure. The uptempo tunes are simply unhinged, while the ballads are full of authentic emotion. The tunes aren't overly arranged, the production is minimal, and the instruments as well as her voice sound unembellished. Imelda May is capturing the attention of Europe for a reason; she is a rare and very exciting talent who understands the history of American roots music and knows how to use that understanding in a contemporary context without pandering. Love Tattoo is righteous.