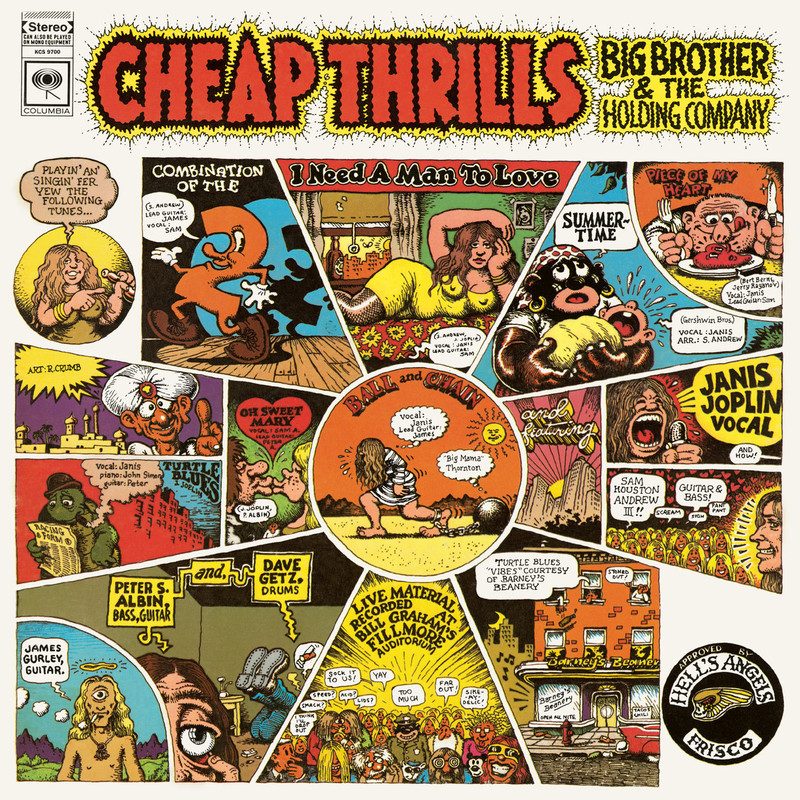 Artist:
Big Brother & The Holding Company, Janis Joplin
Album:
Cheap Thrills
Genre:
Blues Rock
Origin:
USA
Released:
1968/1999
Quality:
mp3, 320 kbps
Tracklist:
Combination of the Two
I Need a Man to Love
Summertime
Piece of My Heart
Turtle Blues
Oh, Sweet Mary
Ball and Chain
Roadblock
Flower In the Sun
Catch Me Daddy (Live at the Grande Ballroom, Detroit, MI - March 1968)
Magic of Love (Live at the Grande Ballroom, Detroit, MI - March 1968)
DOWNLOAD FROM FILECAT.NET >>>
Cheap Thrills, the major-label debut of Janis Joplin, was one of the most eagerly anticipated, and one of the most successful, albums of 1968. Joplin and her band Big Brother & the Holding Company had earned extensive press notice ever since they played the Monterey Pop Festival in June 1967, but for a year after that their only recorded work was a poorly produced, self-titled album that they'd done early in their history for Mainstream Records; and it took the band and the best legal minds at Columbia Records seven months to extricate them from their Mainstream contract, so that they could sign with Columbia. All the while, demand continued to build, and they still faced the problem of actually delivering something worthy of the press they'd been getting Columbia even tried to record them live on-stage on the tour they were in the midst of when the new contract was signed, but somehow the concert tapes from early March of 1968 didn't capture the full depth of their work. So they spent March, April, and May in the studio with producer John Simon and, miraculously, emerged with something that was as exciting as anything they'd done on-stage. When Cheap Thrills appeared in August 1968 sporting a Robert Crumb cover on its gatefold jacket that constituted the most elaborate album design ever lavished on a rock album from Columbia Records, as well as a pop-art classic rivaling the Beatles' Sgt. Pepper's jacket it shot into the charts, reaching number one and going gold within a couple of months, and "Piece of My Heart" became a Top 40 hit and helped to propel the LP to over a million sales. Joplin, with her ear- (and vocal cord-) shredding voice, was the obvious standout. Nobody had ever heard singing as emotional, as desperate, as determined, or as loud as Joplin's, and Cheap Thrills was her greatest moment. Not that everything was done full out there were relatively quiet moments on the album that were as compelling as the high-wattage showcases; her rendition of George Gershwin's "Summertime" was the finest rock reinterpretation of a standard done by anybody up to that time (though, in an incident recalled in his autobiography Clive, when Columbia Records president Clive Davis played it to Richard Rodgers to give him an example of some of the sounds that younger audiences of the late '60s were listening to, the 66-year-old Rodgers stomped out of the Columbia corporate offices in fury, vowing never to write another song); and Joplin's own "Turtle Blues" showed that she and the band could turn down and do credible acoustic blues, in something like an authentic period Bessie Smith (or, more properly, Memphis Minnie) sound. Big Brother's backup, typical of the guitar-dominated sound of San Francisco psychedelia, made up in enthusiasm what it lacked in precision. But everybody knew who the real star was, and Joplin played her last gig with Big Brother while the album was still on top of the charts. Neither she nor the band would ever equal it. Heard today, Cheap Thrills is a musical time capsule and remains a showcase for one of rock's most distinctive singers.