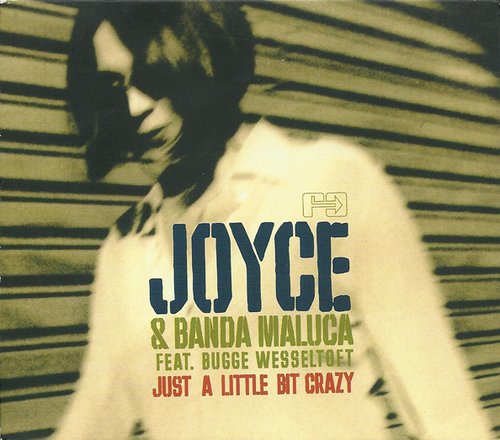 Artist:
Joyce Moreno & Banda Maluca
Album:
Just a Little Bit Crazy
Genre:
Brazilian Jazz, Bossa Nova, Vocal Jazz
Label:
Far Out Recordings
Released:
2003
Quality:
FLAC (tracks+.cue)
Tracklist:
A Banda Maluca (5:50)
Chuvisco (4:39)
Os Medos (7:15)
Na Paz (4:11)
Samba do Joyce (3:14)
For Hall (3:18)
L'Etang (3:16)
Galope (4:28)
A Hard Day's Night (6:39)
Cartomante (3:27)
Mal em Paris (2:34)
Pause, Bitte (1:55)
Tufao (4:02)
DOWNLOAD FROM FILECAT.NET >>>
This 2003 album by Brazilian bossa nova diva Joyce and her Banda Maluca is every bit as strong as her last outing for Far Out, Gafieira Moderna in 2001. Just a Little Bit Crazy takes the jazzier aspects of that album and mixes them up with some modern electronic keyboard work courtesy of the Norse keyboard whiz Bugge Wesseltoft. Wesseltoft and drummer Tutty Moreno construct a series of spacy bossa and jazz soundscapes with gorgeous reed and woodwind work from Nailor Proveta and Teco Cardoso. The saxophones and flute work not so much as punchy accent devices or melodic constructs but as elements that float inside Joyce's well-constructed melodies. They hover around her voice and fill space with lilting, drooping, sometimes floating lines when she is not singing. Joyce's guitar playing and the bass work of Rodolfo Stroeter are the absolute bedrock, or pillow cases, for this breezy, shimmering, summery bossa. But the deft improvisations Joyce works in vocally as well as the small-space ideas that come from the band are what make these 13 songs so revolutionary. This is pop music of the highest order, but it is also jazz vocalizing on a similar level. Take a listen to "Na Paz" or "Samba Do Joyce," her idiosyncratically beautiful version of the Beatles' "A Hard Day's Night," for examples. Joyce's singing is better than ever and her guitaristry is growing by leaps and bounds; she may be a master now, but she is also becoming a great innovator and stylist. On the spookily gorgeous "Tufão," Wesseltoft's keyboards create a quiet, swirling, sucking sound as a backdrop before Joyce's guitar, Moreno's cymbals, and Robertinho Silva's wispy, unobtrusive, constant percussion work enter just ahead of her voice in full plaintive moan. In the bridge, Wesseltoft on acoustic piano engages the horns, flute, and Joyce in a bit of harmonic interplay that adds layers to the already texturally rich palette. The melody moves from pastoral over to urban night song, from ballad to nearly midtempo jazz groover, and the emotion is one of serenity balanced by sadness. This is an amazing and very tender little album that offers further proof that the most creative and exciting music scene in the West is in Brazil.
Review by Thom Jurek