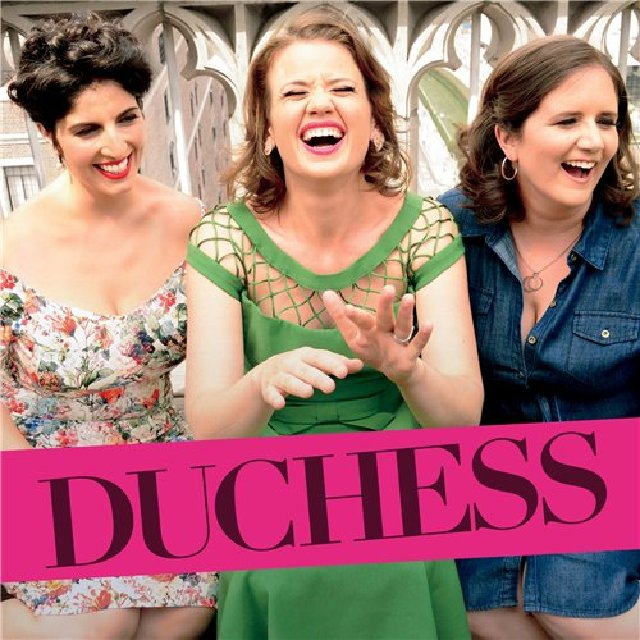 Artist:
Duchess
Album:
Duchess
Genre:
Vocal Jazz, Swing
Label:
Anzic Records
Released:
2015
Quality:
FLAC (tracks+.cue)
Tracklist:
Love Being Here With You
Ain't No Sweet Man
Que Sera
Brooklyn Love Song
Doodlin Song
A Little Jive is Good For You
P.S. I Love You
Humming To Myself
It's A Man
I'll Be Seeing You
Lollipop
Blah Blah Blah
Heebie Jeebies
DOWNLOAD FROM FILECAT.NET >>>
There's a new vocal super group in town, and it proves that bonhomie hasn't been banished from jazz. DUCHESS—the sublime combination of Amy Cervini, Hilary Gardner, and Melissa Stylianou—is a serious musical force, but it makes some seriously friendly music.
Cervini, Gardner, and Stylianou each delivered superb releases on the Anzic imprint in 2014, but that didn't stop them from making time to work out some "girl-on-girl harmony," as they put it. They spread affability throughout New York clubs like 55 Bar, Jazz Standard, and Birdland; they traveled down to New Orleans, winning over the Crescent City crowds with good humor and spirit; and they hit the studio to make this genial album. In summary, it was a very good year for this emergent vocal outfit.
On its eponymous debut, DUCHESS is joined by a crack crew made up of pianist Michael Cabe, bassist Paul Sikivie, drummer Matt Wilson, and a pair of guests—saxophonist Jeff Lederer and guitarist Jesse Lewis. Together, these vocalists and instrumentalists marry poise and playfulness. There's an obvious throwback quality to the music, as it loosely follows the harmonic pathways paved by the Boswell Sister, but there's nothing's stuffy about the performances. DUCHESS delivers ray-of-sunshine vocals with sincerity and wit, Lederer's wonky yet focused soloing takes things over the top in a good way, and Wilson's zany and swinging drum work keeps spirits riding high.
The songs range from the all-too-familiar to the virtually unknown, with DUCHESS investing its energies equally into everything from "Que Sera, Sera" and "I'll Be Seeing You" to Gershwin's little known, prim-cum-nonsensical "Blah, Blah, Blah." Each vocalist gets one solo feature along the way, but the beauty of this album is in seeing how these three distinct personalities come together. There's pure joy evident in their blend during "I Love Being Here With You," swagger in the sound of a swampy "Lollipop," reflective power in the flowing and measured vocals of "Que Sera, Sera," and sly humor behind quite a few songs. Arranger Oded Lev-Ari—the behind-the-scenes MVP of this project—works his magic throughout, simultaneously focusing on the whole and showcasing each of the vocalists. Sunny dispositions, sophisticated vocals delivered without pretension, wonderful arrangements, strong interpretive skills, and excellent instrumental performances help to make DUCHESS a winner from start to finish.
by Dan Bilawsky