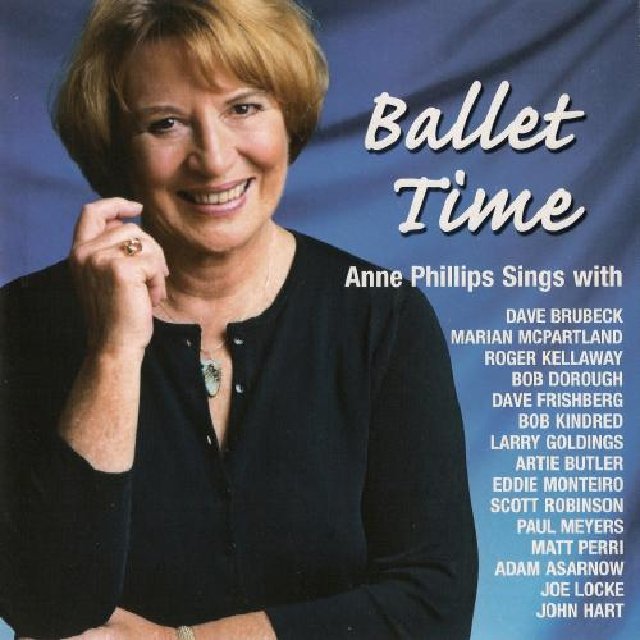 Artist:
Anne Phillips
Album:
Ballet Time
Genre:
Vocal Jazz
Label:
Conawago Records
Released:
2007
Quality:
FLAC (image+.cue)
Tracklist:
Ballet Time (feat. Scott Robinson, baritone saxophone) - 3:12
I Have the Feeling I've Been Here Before (feat. Roger Kellaway, piano) - 5:33
I've Got Just About Everything (feat. Bob Dorough, piano/vocal duet) - 4:02
Here's to Life (feat. Artie Butler, Fender Rhodes) - 4:43
In Your Own Sweet Way (feat. Dave Brubeck, piano) - 4:51
Doubletalk (feat. Larry Goldings, organ) - 3:40
You Are There (feat. David Frishberg, piano) - 3:17
Late Late Show (feat. John Hart, guitar) - 4:01
In the Days of Our Love (feat. Marian McPartland, piano) - 3:44
I Never Went Away (feat. Eddie Monteiro, accordion) - 4:58
I Was Doing All Right (feat. Matt Perri, piano/vocal) - 3:13
Embracable You (feat. Bob Kindred, tenor saxophone) - 5:38
Romancing Ketchikan (feat. Paul Meyers, guitar) - 5:54
New York Night Time Blues (feat. Joe Locke, vibes) - 4:50
Fried Bananas (feat. Adam Asarnow, piano) - 5:02
DOWNLOAD FROM FILECAT.NET >>>
Vocalist Anne Phillips may not be a familiar name to many jazz fans, though since she began her professional career in the early 1960s as a member of the Ray Charles Singers on the Perry Como Show, she has worked in many musical formats as a singer, composer, arranger, conductor and producer. This project was a special labor of love, as she recruited a number of old friends that she met along the way and recruited them to appear on one track apiece with her. Her engaging vocal duet with Bob Dorough (who complements their vocals with some lively piano) of his "I've Got Just About Everything" is a playful affair. Phillips lays a bit behind the beat effectively in spots in Dave Brubeck's loping treatment of his timeless "In Your Own Sweet Way," while she captures the nostalgic magic of pianist Dave Frishberg's lyrics in his ballad (with music by Johnny Mandel) "You Are There." Marian McPartland is on hand for her haunting ballad "In the Days of Our Love," with Phillips bringing out the essence of Peggy Lee's lyrics. Phillips' duet with tenor saxophonist Bob Kindred (her husband) of "Embraceable You" is full of humor, as is "Double Talk" a duet with organist Larry Goldings that has a campy lyric in the style of Annie Ross. There's never a dull moment in this delightful musical scrapbook.
Review by Ken Dryden