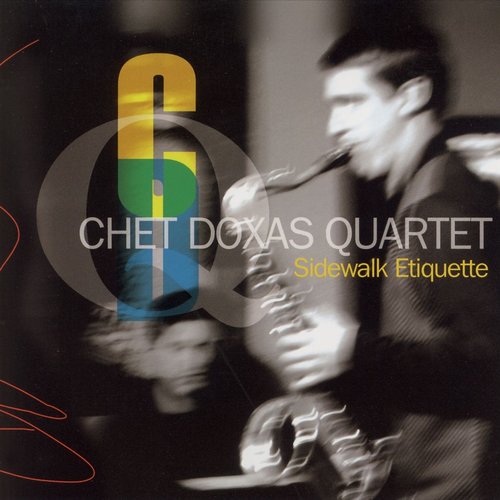 Artist:
Chet Doxas Quartet
Album:
Sidewalk Etiquette
Genre:
Post-Bop, Contemporary Jazz
Label:
Justin Time
Released:
2006
Quality:
FLAC (tracks+.cue)
Tracklist:
Sidewalk Etiquette (Doxas) - 9:45
Unsung (For Jimmy Giuffre) (Doxas) - 11:00
Upstart (Doxas) - 5:35
Forlorn (Zawinul) - 6:09
Long for Shorter (Doxas) - 10:14
Rite Shoe (Lober) - 6:30
Moment's Notice (Coltrane) - 6:26
Nouveau Brit (Doxas) - 6:00
DOWNLOAD FROM FILECAT.NET >>>
Personnel:

Chet Doxas - tenor saxophone, bass clarinet
John Roney - piano, Fender Rhodes
Zack Lober - bass
Jim Doxas - drums
In 2006, the term "Young Lions" had become a figure of speech when used to describe many of the straight-ahead hard bop and post-bop players who emerged in the '80s. Branford Marsalis and Donald Harrison both turned 46 in 2006; Winard Harper turned 44. And straight-ahead tenor man Chet Doxas, born in the early '80s, is young enough to be a son of one of those "Young Lions" -- which points to the fact that the hard bop/post-bop movement the "Young Lions" led back in the early '80s continued after many of them weren't all that young anymore. Doxas shares many of Marsalis' '60s influences -- especially Wayne Shorter and John Coltrane, with some Joe Henderson appreciation as well -- and those influences are very much in evidence on Sidewalk Etiquette, his first album as a leader. This 61-minute CD, which was recorded in 2004 and released in 2006, isn't overly original; stylistically, most of Doxas' material could have appeared on one of Shorter's pre-Weather Report, pre-fusion albums of the mid-'60s. But Doxas is good at what he does; the Canadian improviser has a strong command of the tenor sax as well as the bass clarinet (which he plays as a secondary instrument), and his performances are enjoyable on post-bop originals such as "Long for Shorter" (yes, that's Shorter as in Wayne), "Nouveau Brit" and "Upstart." John Roney, Doxas' pianist, is heard on electric keyboards as well as the acoustic piano; even so, Sidewalk Etiquette is a largely straight-ahead affair and doesn't venture into fusion territory apart from hits of CTI-ish funkiness on bassist Zach Lober's "Rite Shoe." Sidewalk Etiquette won't go down in history as the most groundbreaking session of 2004, but it is a noteworthy, if derivative, effort from the Montreal-based Doxas.
Review by Alex Henderson