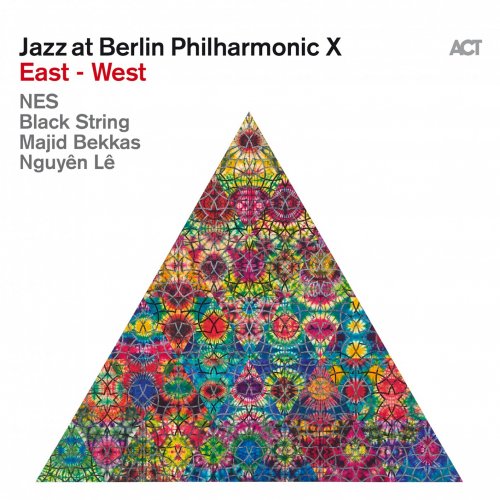 Artist:
NES, Black String, Majid Bekkas, Nguyên Lê
Album:
Jazz at Berlin Philharmonic X: East - West
Genre:
World Fusion, Contemporary Jazz
Label:
ACT Music
Released:
2020
Quality:
FLAC (tracks)
Tracklist:
Aicha (Live) (5:16)
Bye Bye (Live) (7:50)
You Made It Hard for Me (Live) (5:25)
Ahlam (Live) (6:01)
Rimitti (Live) (5:39)
Hanging Gardens of Babylon (Live) (5:22)
Elevation of Light (Live) (4:32)
Encore: Bania (Live) (7:23)
DOWNLOAD FROM FILECAT.NET >>>
Personnel:

Majid Bekkas - guembri & vocals
Nguyên Lê - e-guitar

NES
Nesrine Belmokh - vocals & cello
Matthieu Saglio - cello & vocals
David Gadea - percussion

Black String
Yoon Jeong Heo - Geomungo
Jean Oh - e-guitar
Aram Lee - daegeum & yanggeum
Min Wang Hwang - ajaeng & janggu
'East meets West' was the central theme in the life of Nesuhi Ertegün (1917-1989). He grew up as the son of the Turkish Ambassador in Washington, and Nesuhi himself was to become an ambassador too: one of the most important producers and advocates that jazz has ever had. On the 30th anniversary of his death, Jazz at Berlin Philharmonic curator Siggi Loch dedicated an evening to commemorating this friend and mentor who had been like a father to him. For Nesuhi, jazz had no borders; this concert was a posthumous validation of the far-sightedness of that vision.
On the cultural world map, East-West today is synonymous with the tense relationship between Europe and Asia, between Occident and Orient. From the Renaissance to the present day, there have been repeated waves of enthusiasm for Eastern culture in the West. And for the hundred years or so that jazz has existed, it too has always tended to absorb elements from other cultures into its stylistic vocabulary. Conversely, artists from Eastern cultures have embraced jazz, fused it with their own traditions, revealing new and fascinating expressive possibilities.
Black String, the South Korean quartet led by geomungo player Yoon Jeong Heo, takes a 1500-year old Korean musical tradition and brings it into the modern era and into jazz in way which is totally compelling artistically. NES Trio with charismatic singer/cellist Nesrine Belmokh has a distinctive sound drawn from the musical melting pot of the Mediterranean region. A special guest is the Moroccan oud and guembri player Majid Bekkas, who has often brought the Gnawa blues of his homeland into projects ranging from "folklore imaginaire" to avant-garde jazz. And providing the perfect East-West link is French-Vietnamese guitarist Nguyên Lê, whose go-between role combining the worlds of jazz, rock and Asian folk music has been pioneering. Together they celebrate a meeting of East and West. Nesui Ertegün would have been overjoyed.