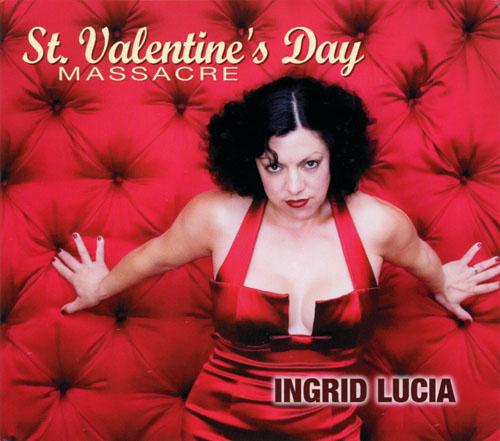 Artist:
Ingrid Lucia
Album:
St. Valentines Day Massacre
Genre:
Vocal Jazz
Origin:
USA
Released:
2009
Quality:
mp3, 320 kbps
Tracklist:
We'll Meet Again
That's My Desire
That Old Feeling
I Cover the Waterfront
These Foolish Things
La Vie En Rose (Latin,band)
Green Eyes
You Go To My Head
What Is This Thing Called Love?
You Made Me Love You
Body And Soul
La Vie En Rose (Ballad, Duo)
Melancholy Baby
That Old Black Magic
DOWNLOAD FROM FILECAT.NET >>>
Take Billie Holiday's voice, add some New Orleans vocal charm, mix in a great collection of musical standards and finish with some great native New Orleans musicians and you have the latest from Ingrid Lucia, "St. Valentine's Day Massacre." Most likely you have never heard of Ingrid before, which is a shame because she has a marvelously unique voice that she knows how to use very well. The story of her growing up, is alone an amazingly interesting tale for which I don't have time to address her, but you can research yourself online. As far as her current album, I can say that it is a true joy to listen to.
Interestingly this album was financed by her fans. Since you will be hard pressed to find a major music label that supports vocal jazz artists who retain dedication to jazz standards and pieces from the great American songbook, I suppose this is one of the few ways an album like this could get produced.
The "St. Valentine's Day Massacre" features fourteen songs, with "Le Vie en Rose" getting a double billing as a Latin style arrangement with her full band on track six, and then a ballad arrangement with piano accompaniment on track twelve. Other songs included are "We'll Meet Again", "I Cover the Waterfront" and others. Despite what I am sure was a tight budget, each recording comes to life with the crisp clear vocals Ingrid is known; and as far as the band goes, not enough could be said about the quality musicianship that backs her on every track. Suffice to say if you enjoy Vocal Jazz with a New Orleans flair, you would love this album.