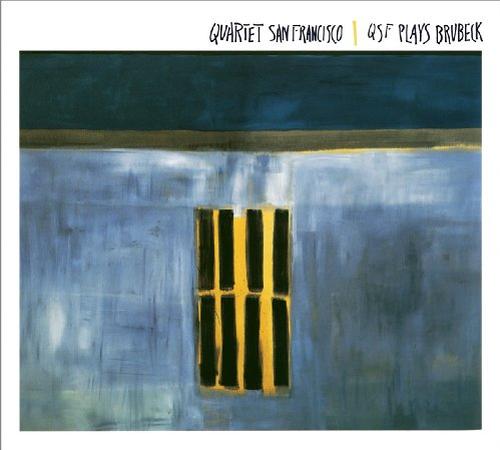 Artist:
Quartet San Francisco
Album:
QSF Plays Brubeck
Genre:
Contemporary Jazz
Label:
ViolinJazz
Released:
2009
Quality:
FLAC (tracks+.cue)
Tracklist:
Three to Get Ready (4:21)
Strange Meadowlark (7:45)
The Golden Horn (5:50)
The Duke (6:02)
Take Five (6:51)
Kathy's Waltz (4:57)
Blue Rondo a la Turk (7:15)
Bluette (4:18)
Unsquare Dance (1:49)
It's a Raggy Waltz (3:47)
Forty Days (5:03)
What Child Is This? (3:14)
DOWNLOAD FROM FILECAT.NET >>>
Personnel:

Jeremy Cohen, Alisa Rose - violins
Keith Lawrence - viola
Michelle Djokic - cello
String quartets like Quartet San Francisco that play jazz compositions are challenging to label stylistically, as they are often putting their own stamp on the music, even if things seem tightly arranged. This CD focuses mostly on the works of jazz pianist/composer Dave Brubeck, including five of the seven songs from his best-selling album Time Out, though a few of the pieces have rarely been recorded by others. With Jeremy Cohen and Alisa Rose on violins, viola player Keith Lawrence, and cellist Michelle Djokic, they are similar in some ways to the Turtle Island String Quartet in their early years, though the QSF have remained in a jazz setting over time. Among the most intriguing tracks are the tense, train-like interpretation of "The Golden Horn" (premiered by Brubeck on Jazz Impressions of Eurasia) and the mournful "Bluette," while cellist Matthew Brubeck (the pianist's youngest son) arranged the playful setting of "The Duke" for the quartet. The band masters the challenging "Blue Rondo a la Turk" and a wonderful, offbeat arrangement of Paul Desmond's "Take Five" that suggests a country hoedown at times. The CD concludes with a powerful pair of religious works, Brubeck's moving "Forty Days" and the centuries-old "What Child Is This?" This compelling release by Quartet San Francisco should appeal to chamber music and jazz fans alike.
Review by Ken Dryden