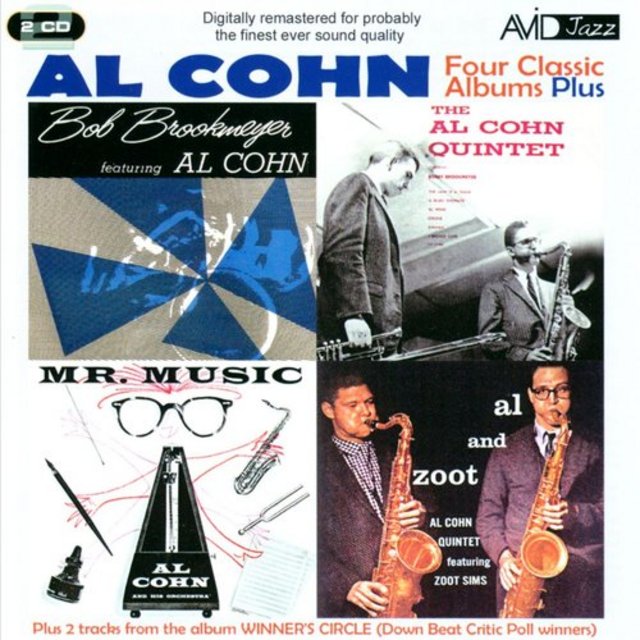 Artist:
Al Cohn
Album:
Four Classic Albums Plus
Genre:
Cool
Label:
Avid Jazz
Released:
2009
Quality:
FLAC (tracks+.cue)
Tracklist:
CD 1:
Mr. Music (1954)

Something for Lisa (6:30)
Count Every Star (3:10)
Cabin in the Sky (3:06)
Move (7:18)
Never Never Land (5:31)
La Ronde (2:48)
This Reminds Me of You (3:17)
Breakfast with Joe (4:09)
Cohn My Way (2:57)
The Al Cohn Quintet Featuring Bob Brookmeyer (1956)
The Lady Is a Tramp (3:26)
Good Spirits (3:38)
A Blues Serenade (4:24)
Lazy Man Stomp (2:57)
Ill Wind (2:50)
Chloe (3:39)
Shine (3:46)
Back to Back (2:37)
So Far So Good (3:51)
Winter (3:55)
I Should Care (2:43)
Bunny Hunch (2:39)
CD 2:
Al Cohn Quintet Featuring Zoot Sims - Al & Zoot (1957)

It's a Wonderful World (6:30)
Brandy and Beer (3:49)
Two Funky People (4:29)
Chasing the Blues (6:09)
Halley's Comet (4:09)
You're a Lucky Guy (3:38)
The Wailing Boat (6:14)
Just You, Just Me (5:30)
Bob Brookmeyer Featuring Al Cohn (1954)
Open Country (5:08)
Jive at Five (7:04)
Skylark (3:01)
In the Mode (3:56)
Polka Dots and Moonbeams (5:47)
From the album Winner's Circle (1957)
Not So Sleepy (6:48)
Love and the Weather (4:06)
DOWNLOAD FROM FILECAT.NET >>>
Since his passing in 1987, Al Cohn has tended to be overlooked by jazz writers, though he developed a strong following among those who played with him, not only for his inventive tenor sax, but also his swinging originals and arrangements. This Avid two-CD set combines three of his albums in their entirety, a fourth where he appeared as a sideman with valve trombonist Bob Brookmeyer, and two bonus tracks. Mr. Music has been one of the harder releases to find, recorded over several days in late 1954, it features many of the top cool and swing stylists, including trumpeter Joe Newman, trombonist Billy Byers, alto saxophonists Gene Quill, Hal McKusick, guitarists Billy Bauer or Jimmy Raney, and two of the most in-demand rhythm section players, bassist Milt Hinton and drummer Osie Johnson. Only "Move" (first recorded by Miles Davis in his Birth of the Cool sessions a few years earlier) was widely recorded; here Cohn takes an extended solo followed by Newman's conversational, swinging trumpet, McKusick's expressive alto, and Frank Rehak's boppish trombone. But several of the songs, like Cohn's "Something for Lisa," focus more on ensembles and brief solos.
The Al Cohn Quintet featuring Bob Brookmeyer finds the tenor man paired with the fellow giant of arranging, though Brookmeyer lived long enough to be widely recognized and honored as an NEA Jazz Master before his death in 2011. Both men appeared on numerous record dates together, and this once-rare album represents some of their best small group work. With a rhythm section consisting of pianist Mose Allison, bassist Teddy Kotick, and drummer Nick Stabulas, Cohn and Brookmeyer share the arranging duties and inspire one another throughout the date. Among the highlights are Brookmeyer's upbeat "Good Spirits," Cohn's loping" Back to Back" (highlighted by its rhythmic contrasts), the trombonist's scoring of the standard "Ill Wind" as a feature for the saxophonist, and Cohn's playful, loose setting of "The Lady Is a Tramp."
Cohn made so many recordings with fellow tenorman Zoot Sims that it is hard to go wrong with any of them. Al and Zoot dates from 1957, with the Allison-Kotick-Stabulas rhythm section heard on The Al Cohn Quintet featuring Bob Brookmeyer. Cohn wrote the charts for their initial small group date and their close working relationship comes across in their superb ensembles and complementary solos. Both men switch to clarinet for Cohn's "Two Funky People," a song that would be covered by a number of other artists in the decades after his death. The brisk setting of "Just You, Just Me" proves to be a stimulating chart, with the two tenors interweaving their lines in the ensembles.
Al Cohn Quintet featuring Bob Brookmeyer actually predated Cohn's recorded meeting with Brookmeyer by almost a year. Backed by pianist John Williams, bassist Bill Anthony, and drummer Frank Isola, the obvious highlight is the valve trombonist's cool, infectious "Open Country," a piece he would reprise with Gerry Mulligan and later in his career, as well. Cohn's hip "In the Mode" has intricate counterpoint and terrific soloing. Two bonus tracks are included from the all-star date Winner's Circle, featuring John Coltrane, Donald Byrd, and others. Since most of the albums that make up this compilation are difficult to acquire, this comprehensive, reasonably priced alternative is a sound investment.
Review by Ken Dryden