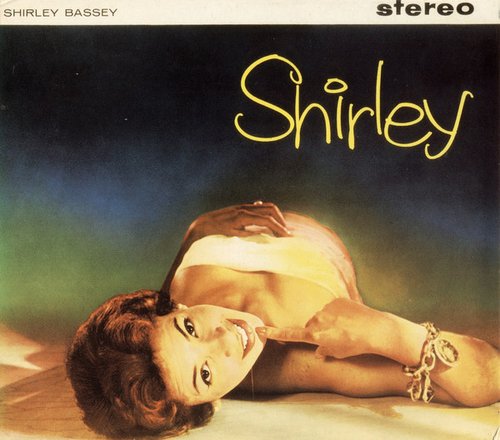 Artist:
Shirley Bassey
Album:
Shirley
Genre:
Vocal Jazz
Label:
EMI
Released:
1961/1997
Quality:
FLAC (tracks+.cue)
Tracklist:
In the Still of the Night (Porter) - 3:24
Let There Be Love (Grant-Rand) - 3:15
All at Once (Deja) (Cochran-Stern-Marnay) - 3:33
For Every Man There's a Woman (Robin-Arlen) - 3:54
I'm in the Mood for Love (McHugh-Fields) - 3:24
So in Love (Porter) - 3:05
If I Were a Bell (Loesser) - 2:55
There Will Never Be Another You (Warren-Gordon) - 4:24
Hooray for Love (Arlen-Robin) - 3:13
Too Late Now (Lerner-Lane) - 3:41
I'm Shooting High (Koehler-McHugh) - 2:22
Ev'ry Time We Say Goodbye (Porter) - 5:14
DOWNLOAD FROM FILECAT.NET >>>
Shirley Bassey's second album for EMI/Columbia is something of a letdown after her debut, The Fabulous Shirley Bassey. Producer Norman Newell again employs the services of Geoff Love & His Orchestra, who provide rather thick-textured accompaniment that sometimes seems out of sync with the singer's full abilities, which never get used on this LP. Bassey's singing is assured and rich-toned, whether she's doing straight pop or bluesy torch ballads like "For Every Man There's a Woman," and she does plumb some unexpected depths of emotion in a slow, impassioned "I'm in the Mood for Love," on which the orchestra is a little too busy for the good of the singer or the song. Love's accompaniments throughout are rather problematic -- the bandleader evidently favored the use of bongos on some of this repertory, but, as with all instruments with the least bit of exoticism, a little bongos go a long way. Generally, Bassey seems less comfortable with both the songs and the arrangements on this album than she did on her debut, although she does have a few beautiful moments here. This was reissued at the end of the 1990s as part of EMI's anniversary series in 24-bit sound.
Review by Bruce Eder