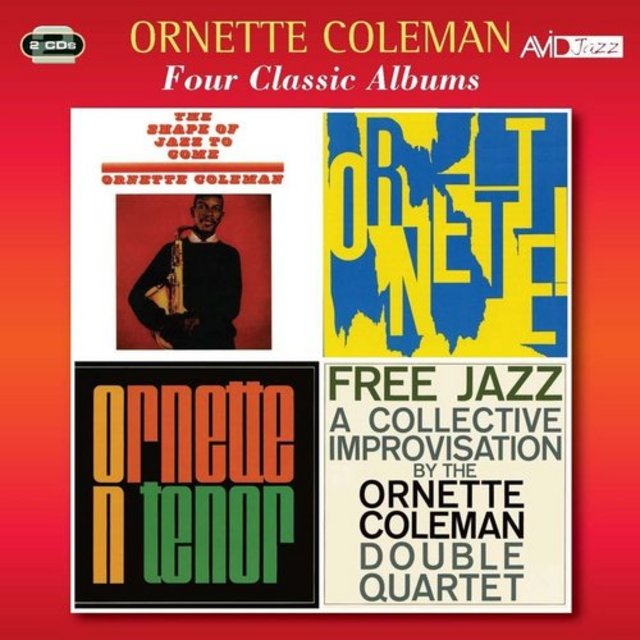 Artist:
Ornette Coleman
Album:
Four Classic Albums
Genre:
Avant-Garde Jazz, Free Jazz
Label:
Avid Jazz
Released:
2013
Quality:
FLAC (tracks+.cue)
Tracklist:
CD 1:
The Shape of Jazz to Come (1959)

Lonely Woman (4:58)
Eventually (4:19)
Ornette (1961)
W.R.U. (16:25)
T & T (4:36)
C & D (13:11)
R.P.D.D. (9:38)
Ornette on Tenor (1961)
Cross Breeding (11:17)
Mapa (9:06)
Enfant (6:28)
CD 2:
Ornette on Tenor (continued)

Eos (6:36)
Ecars (7:36)
The Shape of Jazz to Come (continued)
Peace (9:00)
Focus on Sanity (6:49)
Congeniality (6:45)
Chronology (6:05)
Free Jazz (1960)
Free Jazz (37:07)
DOWNLOAD FROM FILECAT.NET >>>
For our latest release AVID have boldly stepped into the world of the avant-garde, way out and outrageous and some would say unlistenable jazz! At least that is how Ornette Coleman's work was perceived when he began releasing albums in the late 1950's. Who was this guy from Fort Worth ,Texas playing this funny little plastic saxophone? Well two people who knew were Percy Heath and John Lewis from the Modern Jazz Quartet. Heath had been praising him for over two years and John Lewis pianist and musical arranger on the album, "The Shape Of Jazz To Come" had these thoughts about him, as quoted from the album's original liner notes …."Ornette Coleman is doing the only really new thing in jazz since the innovations in the mid - forties of Dizzy Gillespie, Charlie Parker and those of Thelonious Monk." The line up behind Coleman consists of long term collaborators Don Cherry on trumpet, Charlie Haden on bass and Billy Higgins on drums. For "Ornette", Coleman continues the journey of unacceptance trodden by such greats as Schoenberg, Webern, Charlie Parker, Lester Young and Thelonious Monk, musicians who had to wait years before their music was understood and accepted. Ornette is once again joined by Don Cherry on trumpet, but this time, ScottLa Faro on bass and Ed Blackwell on drums. To quote from the final paragraph of the original liner notes….."the ultimate measure of success in this music lies in the ability of these four musicians to give their manifold talents over to one single cooperative effort: the realization of a dream about music which Ornette Coleman continues to have and to cherish." To quote from "Ornette On Tenor"…So why did you decide to make this date on tenor………."The tenor is a rhythm instrument, and the best statements Negroes have made, of what their soul is have been on tenor saxophone…..the tenor's got that thing, that honk, you can get people with it……….you can really reach their souls……." Ornette and Cherry are joined by Jimmy Garrison on bass. "Free Jazz"……….one continuous piece of music recorded in one take and lasting over 38 minutes by Ornette and a Double Quartet. The musicians involved alongside Ornette were Charlie Haden and Scott La Faro on bass, Eric Dolphy on bass clarinet, Don Cherry on pocket trumpet, Freddie Hubbard on trumpet, Ed Blackwell and Billy Higgins on drums. Phew!!