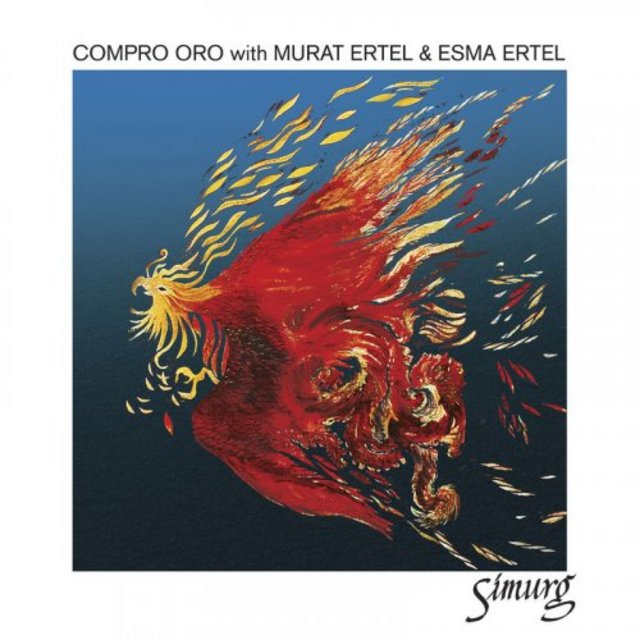 Artist:
Compro Oro with Murat Ertel & Esma Ertel
Album:
Simurg
Genre:
World Fusion
Label:
SDBAN Records
Released:
2020
Quality:
FLAC (tracks)
Tracklist:
Ben
Murmur
Valley Of Gossip
Ignorance Is Bliss (Valley Of Ignorance)
Ara
Valley Of Extinction
Valley Of Love
Valley Of Disbelief
Valley Of Loneliness
Valley Of Ego
Araf
Kaf Mountain
DOWNLOAD FROM FILECAT.NET >>>
Belgian pyschedelic jazz collective Compro Oro are pleased to announce a new collaboration with Murat Ertel, co-founder and frontman of Istanbul's cult psychedelic folk band BaBa ZuLa and his singer partner Esma Ertel. Entitled 'Simurg', the album is set for release on the 19th June via Sdban Ultra and follows Compro Oro's critically acclaimed sophomore album 'Suburban Exotica', released last year.
Compro Oro's introduction to Turkish psychedelics came off the back of a live performance between guitarist Bart Vervaeck and Murat Ertel at Istanbul Express in 2016. Connecting both musically and spiritually, they headed into the studio and under the watchful eye of producer and multi-instrumentalist Dijf Sanders, Compro Oro and Murat recorded several tracks during an intense recording session that would make up 'Simurg'. "The new music is entirely based on improvisation. In contrast to 'Suburban Exotica', which is built more from song structures and where there was more overdubs," explains frontman Wim Segers.
The story of Simurg is a story of attraction, existential research, purification and rebirth. In a mysterious search for fulfillment, millions of birds embark on a journey, crossing several valleys, each representing a human characteristic. While some yield to the attractions of love, ego or grow ignorant and faithless, others remain curious and continue their expedition. Slowly but surely this murmuration of birds thins out and a selection of 30 birds reach Mountain Kaf and the nest of the Simurg. There and then they become one, they are reborn and reincarnated in an almighty and omniscient phoenix.
The strength of Simurg as a result of its power to resurrect from its own ashes reflects the resilience of every human being. We all have the power to strengthen and improve ourselves, not in the least in our contact with others, and this is exactly what this project is аbout: a spontaneous dialogue, a quest for new musical horizons, a gathering of liberal spirits to reach for the unknown. From the Anatolian rhythms and reverb-smothered funk rock of 'Ben', to the mystical atmospherics of 'Ignorance Is Bliss (Valley Of Ignorance)' and the dark, dub-infused grooves of 'Valley Of Disbelief', 'Simurg' is an allegory about the noise that you can create as a person.
Compro Oro released their debut album 'Transatlantic' in 2015, an ode to jazz vibraphonist Cal Tjader. The release was lauded in the press as a drunken mix of Buena Vista Social Club and guitarist Marc Ribot's, Cubanos Postizos. In 2017, they released 'Bombarda', a bold EP that sailed South and East of Cuba, incorporating different ethnic rhythms and melodies in elaborate jams while 'Suburban Exotica', released late last year, recieved critical acclaim far and wide.
Musician Murat Ertel is best known as the king of Turkish psychedelic music and a leading figure on the alterntive scene in his hometown of Istanbul. His band BaBa Zula fuse traditional Turkish rhythms and melodies as a basis and intersperses this tradition with contemporary elements and sounds drawn from dub, electronics and psychedelic rock. Earlier this year, he curated a compilation of Turkish electric saz music entitled 'Uzelli Elektro Saz (1976-1984)', released on Uzelli Record.
He re-formed his first band Mavi Gunes 69 with his partner Esma in 2011, a singer, songwriter and dancer known for her "Tribal Fusion Dance". Esma has peformed around the world and adds magical vocals to 'Simurg'.