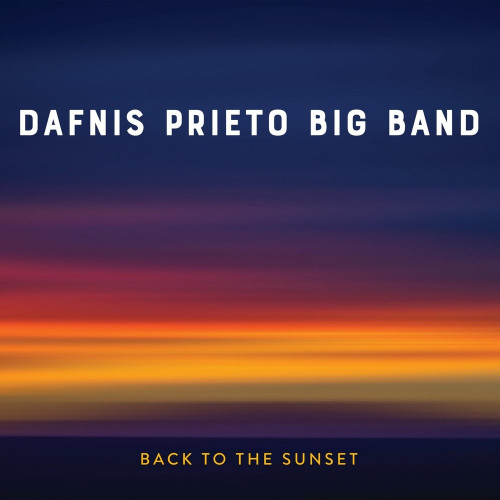 Artist:
Dafnis Prieto Big Band
Album:
Back to the Sunset
Genre:
Progressive Big Band, Latin Jazz
Label:
Dafnison Music
Released:
2018
Quality:
FLAC (tracks)
Tracklist:
Una Vez Más (featuring Brian Lynch - trumpet)
The Sooner the Better
Out of the Bone
Back to the Sunset featuring (Henry Threadgill - alto sax)
Danzonish Potpourri
Song for Chico (featuring Steve Coleman - alto sax)
Prelude Para Rosa
Two For One
The Triumphant Journey
DOWNLOAD FROM FILECAT.NET >>>
Personnel:

Mike Rodríguez: Trumpet, Flugelhorn;
Nathan Eklund: Trumpet, Flugelhorn;
Alex Sipiagin: Trumpet, Flugelhorn;
Josh Deutsch: Trumpet, Flugelhorn;
Román Filiú: Alto Sax, Soprano Sax, Flute, Clarinet;
Michael Thomas: Alto Sax, Soprano Sax, Flute, Piccolo;
Peter Apfelbaum: Tenor Sax, Soprano Sax, Melodica;
Joel Frahm: Tenor Sax, Soprano Sax;
Chris Cheek: Bari Sax;
Tim Albright: Trombone;
Alan Ferber: Trombone;
Jacob Garchik: Trombone;
Jeff Nelson: Bass Trombone;
Manuel Valera: Piano;
Ricky Rodríguez: Acoustic & Electric Bass;
Roberto Quintero: Congas, Bongos, Percussion;
Dafnis Prieto: Drums & Music Director;
Brian Lynch: Trumpet (Track 1);
Henry Threadgill: Alto Sax (Track 4);
Steve Coleman: Alto Sax (Track 6)
That Dafnis Prieto has undertaken an epic musical voyage is clear from the music on this disc. Back to the Sunset, is the culmination of a journey that looks back from the future. This colourful symphonic fantasy is the realisation of the dreams and aspirations of a drummer who may occupy a seat behind a trap set, but in actual fact belongs everywhere in the orchestra. And magically, Mr Prieto has, in fact, become the orchestra that he animates and in the myriad of stories that are told or, more appropriately-speaking, sung the characters in this moving, passion play change. In some of the lead character is an animated trumpet, or an alto saxophone, a trombone, piano, bass and also, of needs be, a drum.
There is a mighty dynamic that propels this music throughout. But it is never at the same pace. Nor does the music move in a linear, predictable path. Rather it meanders, leaps in parabolic arcs, travels in profound dreamy movements with grace and power. "Back to the Sunset", for instance is Mr Prieto's luxurious chromatically winding ballad featuring the identifiably singular voice of Henry Threadgill on alto saxophone. The stunningly slow piece is highly imaginative and the twisting, ornamented solo melody is evocative of the protagonist exploring the vastness of time and space. Likewise with the scurrying "Una Vez Más" which announces the big band sound at the very outset as it progresses in a huge orchestral score marked with sensuous melodic inventions that unfold in Brian Lynch's explosions of dazzling colour.
The same holds true for "Song for Chico", a song that is dedicated to one of Mr Prieto's mentors, Chico O'Farrill. Here Steve Coleman casts his gigantic shadow over the piece. In the music of this piece Mr Prieto clearly retains a deep reverence for what most of us still consider the summation and perfection of maestro O'Farrill. Mr Coleman – like the other guest soloists and indeed, all of the members of the big band – show that they have grasped the vision and artistry of Mr Prieto with nuanced perfection. Throughout the music of this recording Mr Prieto, its composer and director, makes musicianship dominate. He taps into the subtle arts of his fellow performers, to create a benchmark recording. The many jewels of this recording are marked by individual performances of enormous skill, as well as grand ensemble choruses the likes of which one will have to walk many miles to discover in their lifetime.
By Raul Da Gama