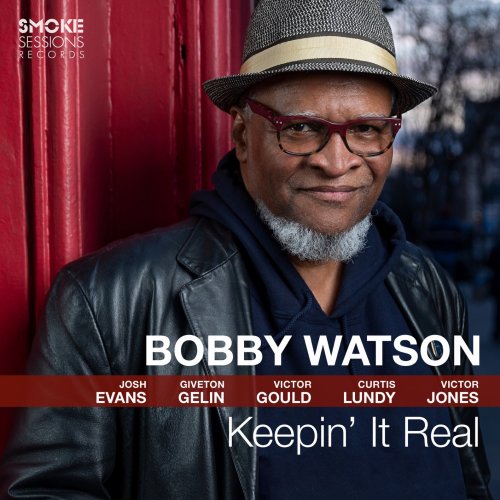 Artist:
Bobby Watson
Album:
Keepin' It Real
Genre:
Post-Bop
Label:
Smoke Sessions Records
Released:
2020
Quality:
FLAC (tracks)
Tracklist:
Condition Blue (4:17)
Keepin' It Real (7:08)
Elementary, My Dear Watson 2020 (7:52)
Someday We'll All Be Free (4:11)
Mohawk (8:02)
My Song (8:20)
One for John (747) (4:00)
Flamenco Sketches (8:00)
The Mystery of Ebop (6:44)
DOWNLOAD FROM FILECAT.NET >>>
Personnel:

Bobby Watson (as),
Josh Evans (tp),
Giveton Gelin( tp 2, 4 & 5),
Victor Gould (p),
Curtis Lundy (b),
Victor Jones (ds)
As the great Bobby Watson embarks on a new chapter in his storied career, his new album "Keepin' It Real" arrives as a reminder of the authenticity that has characterized his music on every step of that journey. While Watson won the JazzTimes critic's poll as the top alto saxophonist in 2019, he also retired from a 20+ year career in academia giving him the best opportunity in many years to focus exclusively on his own music."Keepin' It Real" also debuts a new incarnation of his band Horizon featuring trumpeters Josh Evans and Giveton Gelin, bassist Curtis Lundy, pianist Victor Gould and drummer Victor Jones now called New Horizon. The original Horizon was an outlet for Watson's music from the late 80s well into the 21st century. After a short tour with the band earlier this year, Watson realized that a reinvention was in order, in keeping with his mentor Art Blakey's constant retooling of the Jazz Messengers. "The original Horizon has run its course," Watson concludes. "Art Blakey also moved on while everybody was still young and healthy, and everybody in that band has grown into their own thing. That's why I wanted to start fresh, with new music, new personnel, fresh blood, and new energy."Most importantly, the new album is a vital continuation of the supple hard-bop sound that Watson has practiced throughout the decades, laced with the profound influences of gospel and R&B and now infused with the renewed vigor of hungry young collaborators. Keepin' It Real, Watson explains, is a mantra that he strives to exemplify every time he lifts his alto to his lips.