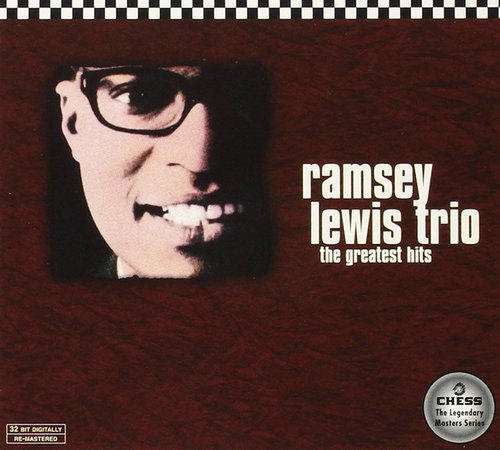 Artist:
Ramsey Lewis Trio
Album:
The Greatest Hits
Genre:
Crossover Jazz, Soul-Jazz
Label:
MCA/Chess
Released:
1997
Quality:
FLAC (tracks+.cue)
Tracklist:
The "In" Crowd (5:51)
My Babe (4:00)
Since I Fell for You (4:04)
Something You Got (3:21)
A Hard Day's Night (4:58)
Hang on Sloopy (3:07)
The Caves (3:15)
Dancing in the Street (2:50)
Felicidade (Happiness) (3:31)
Wade in the Water (3:49)
Ain't That Peculiar (2:58)
Blues for the Night Owl (3:38)
Function at the Junction (3:03)
Lonely Avenue (2:58)
1-2-3 (3:25)
Look-A-Here (3:09)
High Heel Sneakers (2:46)
Uptight (Everything's Alright) (3:15)
DOWNLOAD FROM FILECAT.NET >>>
Personnel:

Ramsey Lewis - piano
Eldee Young - bass, cello
Cleveland Eaton - bass (#10,11,13,15,18)
Richard Evans - conductor (#10,11,13,15,18)
Red Holt, Maurice White (#10,11,13,15,18) - drums
Although Ramsey Lewis' career with Chess stretched from the mid-'50s to the end of the 1960s, it was only in the mid-'60s that he made a significant dent in the pop market. Accordingly, this 18-track collection is not so much a representative sampling of his Chess output as it is a heavy dip into his most popular mid-'60s recordings. Although the tracks do span 1961-1967, all but four cuts were done in 1964-1966. Not that this is such a bad thing; this era was the time at which Lewis issued not just his most popular stuff, but also his best. It's a strong group of his best pop-jazz-R&B material, including all four of his Top 40 hits ("The 'In' Crowd," "A Hard Day's Night," "Hang on Sloopy," and "Wade in the Water"). While some tracks do allow him to get more heavily into the jazz or blues end of things, most of it focuses on comfortable R&B-jazz-pop grooves, even if it's much heavier on adaptations of familiar material that had already been popularized by other artists than it is on original Lewis compositions.
Review by Richie Unterberger