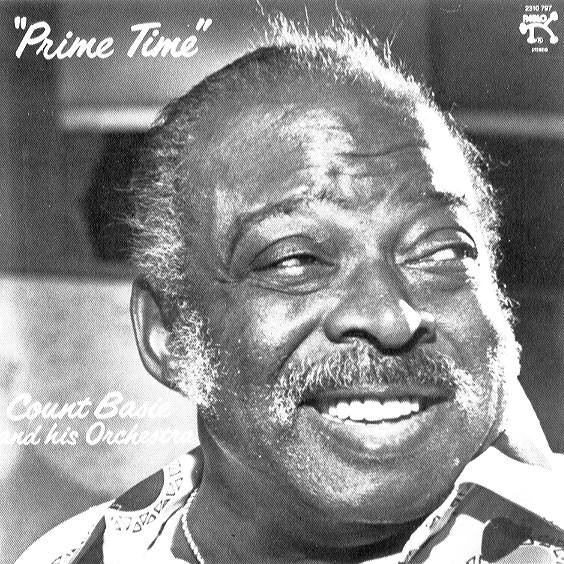 Artist:
Count Basie And His Orchestra
Album:
Prime Time
Genre:
Big Band
Label:
Pablo Records
Released:
1977
Quality:
FLAC (image+.cue)
Tracklist:
Prime Time (7:37)
Bundle O'Funk (5:20)
Sweet Georgia Brown (3:39)
Featherweight (4:58)
Reachin' Out (6:42)
Ja-Da (5:49)
The Great Debate (4:53)
Ya Gotta Try (4:02)
DOWNLOAD FROM FILECAT.NET >>>
Personnel:

Count Basie, Nat Pierce - p
Pete Minger, Lyn Biviano, Bobby Mitchell, Sonny Cohn - tp
Al Grey, Curtis Fuller, Bill Hughes, Mel Wanzo - tb
Jimmy Forrest, Eric Dixon, Danny Turner, Bobby Plater, Charlie Fowlkes - saxes
Freddie Green - g
Reinie Press - el-b
John Duke - b
Butch Miles - d
This 1977 release begins with a mid-tempo blues cut featuring The Count on piano, Al Grey on trombone, and Jimmy Forrest on tenor saxophone. Punchy section work and dynamic contrast set the tone for what's to come on the other seven tracks. While Basie continued to work in the big band setting until his death in 1984, his band's sound didn't change all that much. Much of this had to do with the key players (Freddie Green, Eric Dixon, Butch Miles, and others) who played on and off with the band until Basie's demise.
There are many highlights on PRIME TIME. Whether it be Pete Minger's solo on "Reachin' Out," Butch Miles' blazing drum breaks on "Ya Gotta Try," or Sammy Nestico's smart compositions (which make up six of the album's eight tracks), PRIME TIME swings with authority and grace.