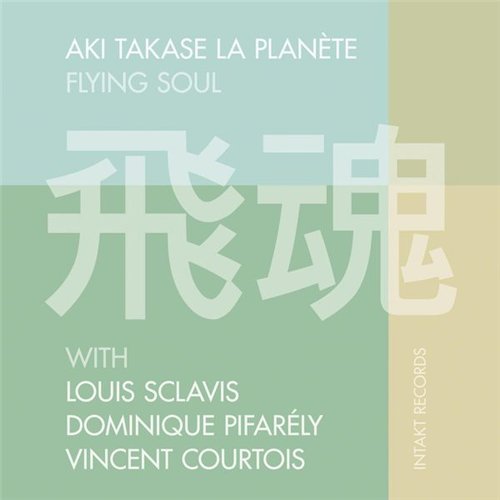 Artist:
Aki Takase La Planete
Album:
Flying Soul
Genre:
Avant-Garde Jazz
Label:
Intakt Records
Released:
2014
Quality:
FLAC (tracks)
Tracklist:
Into the Woods
Rouge Stone
Wasserspiegel
Onigawarau
Finger Princess
Morning Bell
Turtle Mirror
Reading
Intoxication
Schoolwork
Flying Soul
Tarantella
Twelve Tone Tales
Moon Cake
Piece for "La Planete"
DOWNLOAD FROM FILECAT.NET >>>
Personnel:

Aki Takase - piano, celesta
Louis Sclavis - clarinet, bass clarinet
Dominique Pifarèly - violin
Vincent Courtois - cello
Japanese pianist, composer Aki Takase collaborates with her peers on what could be considered an all-star international lineup, originating from her partnership with French clarinetist Louis Sclavis. Interspersed with several pieces, spanning one-minute to two- minutes in length, the nouveau chamber, jazz, and improvised segments are brusque, changeable and smoothly cohesive. In addition, many of these works take on the flavor of intersecting vignettes. Takase's Midas touch can be ever-so-gentle or constructed on steamy, avant-like flurries. The band conjures notions of harmony or despair via blithe unison reprises and an uncluttered musical environment, forged with great depth and compositions that don't snugly reside within one explicit genre.
The album boasts a vacillating current, featuring Takase's animated ostinatos; dainty or somber free-form cadenzas and Sclavis' carefree articulations amid the strings performers brisk unison breakouts and many other dynamics. And the quartet exercises an off- center spin on the Italian tarantella folk dance "Tarantella," spiced with frisky improvisational passages and disciplined choruses. The lone non-Takase composition is German avant-garde pianist Alexander von Schlippenbach's "Twelve Tone Tales, featuring Sclavis and violinist Dominique Pifarely's mystical storylines, nestled within the pianist's pensive articulations and cellist Vincent Courtois's classical undercurrents. However, Sclavis also lightens the panorama with whimsical phrasings over-the-top. In effect, the program rings like a multipart suite, enacted with comprehensive mosaics, and offset with rambunctious exchanges and flotation-like thematic evolutions. In less capable hands, these scenarios could seem muddled or contrived, but Takase's ensemble triumphantly morphs a sense of immediacy with sheer eloquence, graceful authority and mind-bending interplay. (Glenn Astarita)