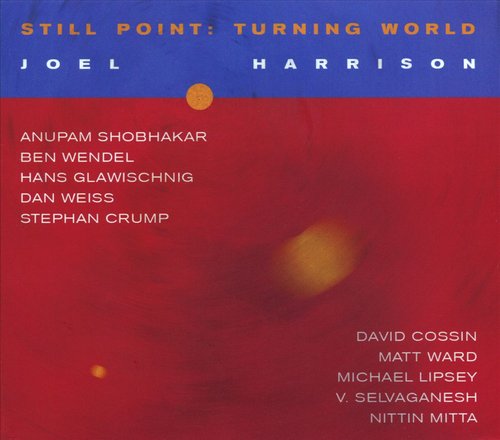 Artist:
Joel Harrison
Album:
Still Point: Turning World
Genre:
Modern Creative, Contemporary Jazz
Label:
Whirlwind Recordings
Released:
2019
Quality:
FLAC (tracks+.cue)
Tracklist:
Raindrops in Uncommon Times (Harrison) - 9:53
One Is Really Many (Harrison) - 7:01
Permanent Impermanence (Harrison) - 5:19
Wind over Eagle Lake (Harrison) - 2:30
Ballad of Blue Mountain (Harrison) - 5:58
Time Present Time Past (Harrison) - 4:11
Creator/Destroyer (Harrison) - 12:47
Blue Mountain (A Slight Return) (Harrison) - 7:36
DOWNLOAD FROM FILECAT.NET >>>
To enter the immersive realm of Still Point: Turning World is to join guitarist/composer Joel Harrison and colleagues in embracing the gloriously enlightening globalization of music, unhindered by category or preconception. This original eight-movement work brings together contemporary percussion quartet Talujon (Matt Ward, Michael Lipsey, Tom Kolor, David Cossin), Indian sarode player Anupam Shobhakar, and jazz musicians Hans Glawischnig (bass), Ben Wendel (saxophone/bassoon) and Dan Weiss (drums/tabla) to realize the guitarist's striking, kaleidoscopic vision. Guests include V. Selvaganesh (perc.), Nittin Mitta (tabla), and Stephan Crump (bass).
"For many years, I have held up an ideal", explains Harrison, "to bring under one roof those sounds I most love. This often involves working with seemingly disparate systems of music. All music exists contemporaneously, and each new piece brings us a code to crack. In this case, the code is: how to balance extensive notation and improv; those who read [notation] and those who don't; a drone instrument (that cannot play harmony) with western harmony; music that specifically grooves and music that doesn't."
The breadth of Washington DC-born Joel Harrison's discography (twenty albums, as leader) speaks of the eclecticism of his creativity, encompassing jazz, blues, rock, classical, Appalachian music, and intensely personal, lyrical songs. 2014 Whirlwind release Leave the Door Open (also featuring Anupam Shobhakar) provided an earlier glimpse of his inspired interactions. Still Point: Turning World seeks out further expansive pathways thanks to Harrison's skilful integration of beguiling, unexpected timbres and rhythms, all presented by the virtuosic and shared prowess of this impressive nonet.
"Anupam Shobhakar is a true master of his gharānā", enthuses Harrison, "and a restless adventurer for new sounds – an Indian classical musician who can straddle all these worlds; a consummate artist and risk-taker. In Dan Weiss, Anupam and I have the perfect foil, as Dan is a very serious student of Indian music and an amazing jazz drummer. Ben and Hans encompass any idea that I have and make it their own, and Talujon are a wonderful match for my writing, intrigued (as I am) by Indian rhythm cycles, jazz, African music, etc."
Dive into 'Raindrops in Uncommon Times' and you're transported along marimba and tabla-hued tributaries as guitar, sarode, sax, and konnakol improvisations coruscate across its rippling shadows; and in 'One is Really Many', the excitement of Shobhakar's complex Indian raga patterns are matched by Weiss's intense, fiery drumming. Harrison's gritty, wailing guitar phrases and Wendel's extraordinary wailing saxophone color 'Permanent Impermanence', leading on to mystically percussive interlude 'Wind Over Eagle Lake' and 'Ballad of Blue Mountain's W. African-derived rivulets. Furtive 'Time Present Time Past' crackles with cross-rhythms and stratified riffs; epic 'Creator/Destroyer' explodes with multiple solos and an extraordinary percussion intro; and the relative calm of closing 'Blue Mountain (A Slight Return)' is ramped up by mesmeric tabla and kanjira, featuring the exquisite Selvaganesh, who is best known for playing with John McLaughlin in Remember Shakti. Careful listening shows linked themes that binds the work together.
"The concept of Still Point: Turning World is to take the listener on a soulful journey", confirms Harrison. "The aim is to go deeply into quiet, private introverted spaces, and then also into passionate explosions of percussive wildness." This is, indeed, a genre-busting odyssey of discovery.