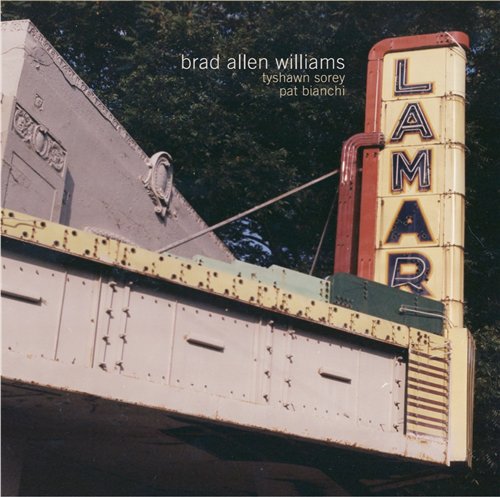 Artist:
Brad Allen Williams
Album:
Lamar
Genre:
Soul-Jazz, Mainstream Jazz
Label:
Sojourn Records
Released:
2015
Quality:
FLAC (tracks)
Tracklist:
Steppin' Out
201 Poplar
Galveston
Betcha by Golly Wow
Euclid and Lamar
Stairway to the Stars
Culver Viaduct Rehabilitation Project
More Than You Know
DOWNLOAD FROM FILECAT.NET >>>
Personnel:

Brad Allen Williams - electric guitars, electric sitar
Pat Bianchi - Hammond organ
Tyshawn Sorey - drums
Brad Allen Williams is another in a seemingly endless stream of splendid guitarists dating back to the earliest days of jazz, set apart from the herd on Lamar primarily by choice of instrumentation, material and manner of recording. Williams' trio, whose other members are organist Pat Bianchi and drummer Tyshawn Sorey, have chosen to perform half a dozen original compositions (three by Williams) and two enticing standards, "Stairway to the Stars" and "More Than You Know." In a departure from most contemporary sessions, the recording is all-analog—no computers or other digital paraphernalia were used to enhance or otherwise tweak the finished product.
That decision, Williams writes, was a musical one, as he has "become convinced that most often the humanity [of a recording] lies in the little mistakes . . . the tiny flaws that reveal our humanity." Be that as it may, if there are any such blemishes on Lamar they are assuredly inaudible and confined to the listener's subconscious. What emerges is a portrait of three musicians working seamlessly together, by no means going where others haven't gone before but doing what they do extremely well.
The trio is present on every number save the finale, "More Than You Know," on which Williams plays alone. Elsewhere, he and Bianchi share the melodic line while Sorey keeps the rhythm percolating. The sunny opener, Williams' "Steppin' Out," has a definite Wes Montgomery feel, while "201 Poplar," which follows, is a leisurely blues whose somber mood is underscored by Williams' expressive guitar and Bianchi's assertive Hammond. "Stairway" is preceded by three more originals, Jimmy Webb's "Galveston," the pensive "Betcha By Golly Wow" (on which Williams employs some sort of device to modify the guitar's sound) and Williams' fast-paced "Euclid and Lamar." The leader also wrote the well-grooved "Culver Viaduct Rehabilitation Project," on which Bianchi delivers another forceful solo.
As guitar-led trio albums go, Lamar is as good as most and better than many. While the analog recording approach works well and sound quality is fine, it must be noted that the playing time is a scant thirty-nine minutes. On the other hand, not much of that time is wasted.
by Jack Bowers