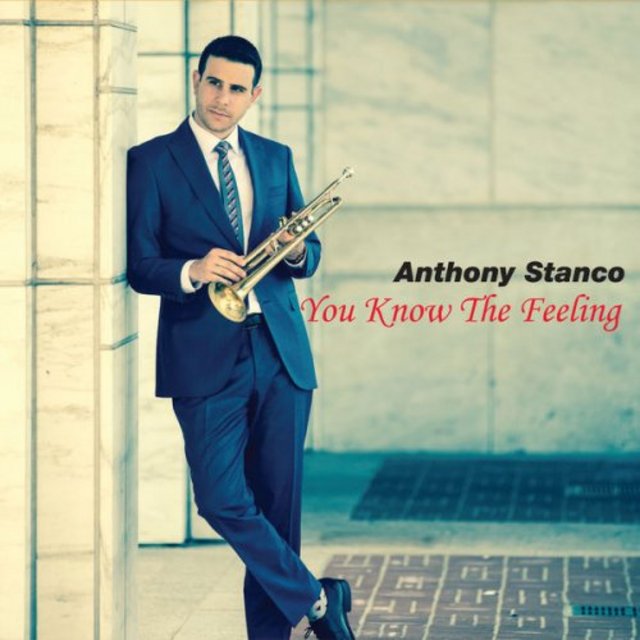 Artist:
Anthony Stanco
Album:
You Know The Feeling
Genre:
Mainstream Jazz
Label:
Detroit Music Factory
Released:
2020
Quality:
FLAC (tracks)
Tracklist:
The Sum Of Its Parts
Pursuit
Better Together
Keep It To Yourself
Blues Comes In Many Colors
Serenity
The Juggling Act
Juicy Lucy
For Tomorrow
DOWNLOAD FROM FILECAT.NET >>>
For trumpeter, arranger, composer and bandleader Anthony Stanco, jazz is cumulative. Raised in the musical mecca of Detroit and mentored by some of the city's finest musicians, including bass player Rodney Whitaker and trumpet player Marcus Belgrave, his playing is steeped in tradition and infused with the crucial elements of blues, soul and swing.
But as a rising star among the new generation of jazz musicians, Stanco reveres the roots of the music as much as he energetically explores the direction of its future.
"It's important to have a connection to the masters," says Stanco. "A connection to the people who've moved this music forward, and an understanding of what they've done with it and what I can contribute."
On his new recording with Detroit Music Factory, You Know the Feeling, Stanco leans into his deep-rooted appreciation for the giants, while still exploring fertile ground as a composer, arranger and performer.
The record features stellar performances from some of Detroit's most prominent jazz artists, including Whitaker, his mentor, whom he's known since he was 13. Also on the record areGrammy® Award-winning musician Michael Dease on trombone, saxophonist Marcus Elliot who also contributes one of the record's compositions, and fellow Detroit Music Factory artists Scott Gwinnell on piano and Sean Dobbins on drums.A skilled trumpet player with a big brilliant sound and a fearless command of the horn, Stanco's playing shows clear influence by trumpet greats Louis Armstrong and Dizzy Gillespie. From his sophisticated improvisation on Joe Henderson's "Serenity" to the blues-drenched rendition of Horace Silver's "Juicy Lucy," you know just where Stanco is coming from. Beyond the two standards, and the tune by Elliot, the record includes a composition by Gwinnell and five originals by Stanco. According to Stanco, the compositions are what drove the concept of You Know the Feeling. "I think the music has to be representative of the human experience," says Stanco.
"The inspiration for each of the compositions came from a particular emotion." According to Stanco, "Blues Comes in Many Colors" is a tune about "feeling a certain way towards someone. It's a love song." A beautifully moody Mingus Ellington-esque composition, the song draws you in with a familiar melancholy. The horns are wistful, longing and reflective. You've been here before, but "Blues Comes in Many Colors" tugs on you to stay a little longer. In contrast,
"Keep it to Yourself" musically plays out the currents beneath that moment when you want to give someone a piece of your mind, but you hold back.
The melody starts off like the grumblings of whispers under your breath. It breaks and spurts, with the notes gradually getting more and more complicated, more and more flustered, until... wham! "It was really fun to write," Stanco laughs. "It was something that I wrote in the heat of the moment." Stylistically, "Keep it to Yourself" is a minor tune with a very swing, McCoy Tyner feel. It's up-tempo with fast lines and an unexpected rhythm. It's a tough tune for even accomplished musicians to pull off, particularly for the trombone player, but you wouldn't know that to hear these musicians play it. Dease is a virtuoso and never breaks a sweat, at least not one that we can detect. He keeps his cool. "I knew how difficult these parts were going to be to play," says Stanco. "That's why it had to be these guys." "The Juggling Act" is a fast, chaotic blues, increasingly frenzied like the life of a musician, or a teacher, or any one of us when it's all balls in the air and no time to stop.
Exciting and full of life, the melody gets tossed back and forth between the trumpet and the other two horns. It's a perfect, albeit frantic, balancing act; they are literally juggling a metal melody. Whether he's building a composition from a single rhythmic motive or creating a landscape with a certain melodic device, the emotional source for each of Stanco's tunes on You Know the Feeling is always something relatable, some place we've all been, some place we've all shared. His tunes breathe life into a space and fills it with familiar experiences. You know the place. You know the feeling.