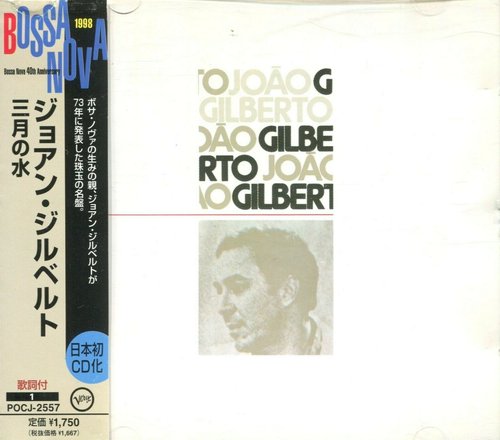 Artist:
Joao Gilberto
Album:
Joao Gilberto
Genre:
Bossa Nova, Latin Jazz
Label:
Verve Records/Polydor K.K.
Released:
1973/1998
Quality:
FLAC (tracks+.cue)
Tracklist:
Aguas de Marco (Jobim) - 5:24
Undiu (Gilberto) - 6:37
Na Baixa do Sapateiro (Barroso) - 4:44
Avarandado (Veloso) - 4:30
Falsa Baiana (Pereira) - 3:45
Eu Quero um Samba (Barbosa-De Almeida) - 4:46
Eu Vim da Bahia (Gil) - 5:52
Valsa (Como Sao Lindos os Youguis) (Bebel) (Gilberto) - 3:19
E Preciso Perdoar (Coqueijo-Luz) - 5:08
Izaura (Martins-Roberti) - 5:28
DOWNLOAD FROM FILECAT.NET >>>
Personnel:

Joao Gilberto - guitar, vocals
Sonny Carr - drums
Miucha - background vocals (#10)
This release is Joao Gilberto stripped down nearly to his bare essentials -- his voice, guitar and the extremely spare drumming of Sonny Carr -- and he's just as mesmerizing as he's ever been on records. The whole record is about the rhythmic clashes and dovetailings of a singer and his guitar, pitched at extremely low levels of volume yet generating volumes of drive without seeming to breathe hard. Dig the insistent way in which "Falsa Baiana" and Gilberto Gil's marathon rhythm machine "Eu Vim Da Bahia" ride the waves of the bossa nova groove, or how Gilberto delivers one of the best renditions of Jobim's "Aguas de Marco" -- quietly relentless and to-the-point. Three of the tracks eschew words altogether -- gentle syllables and/or Gilberto's insistent guitar tell the entire story -- and the final selection, "Izaura," belatedly adds a female voice (Miucha) in the left speaker. Though recorded in a New Jersey studio -- the engineer, surprisingly enough, is Wendy Carlos, the electronic music pioneer of Switched-On Bach fame -- this addictive release originates from PolyGram Brazil.
Review by Richard S. Ginell