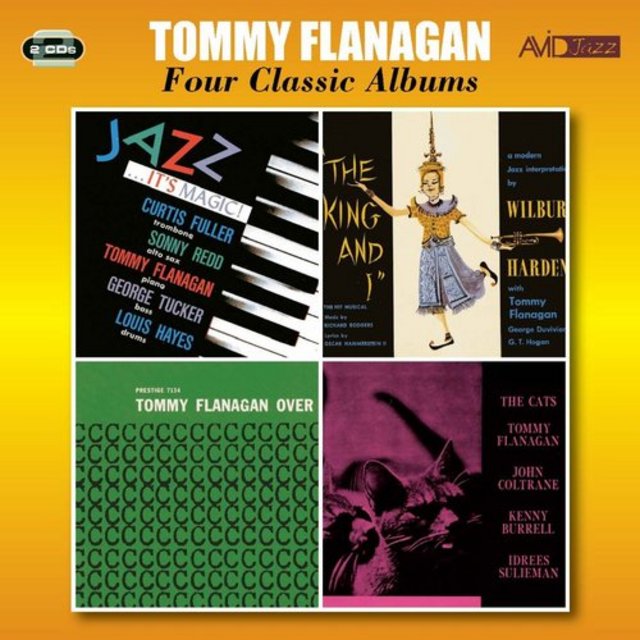 Artist:
Tommy Flanagan
Album:
Four Classic Albums
Genre:
Bop, Hard Bop
Label:
Avid Jazz
Released:
2013
Quality:
FLAC (tracks+.cue)
Tracklist:
CD 1:
Jazz... It's Magic! (1957)

Two Ton (4:53)
Medley: It's Magic/My One and Only/They Didn't Believe Me (13:44)
Soul Station (5:45)
Club Car (7:18)
Upper Berth (8:35)
The King and I (1958)
Getting to Know You (4:04)
My Lord and Master (4:16)
Shall We Dance (6:10)
We Kiss in a Shadow (5:26)
I Have Dreamed (4:46)
I Whistle a Happy Tune (4:12)
Hello Young Lovers (4:09)
Something Wonderful (2:42)
Trio Overseas (1957)
Relaxin' at Camarillo (3:18)
CD 2:
Trio Overseas (1957) (continued)

Chelsea Bridge (3:47)
Eclypso (6:18)
Beats Up (4:22)
Skal Brothers (2:33)
Little Rock (7:05)
Verdandi (2:14)
Dalarna (4:40)
Willow Weep for Me (6:22)
The Cats (1957)
Minor Mishap (7:27)
How Long Has This Been Going On? (5:59)
Eclypso (8:00)
Solacium (9:12)
Tommy's Time (11:59)
DOWNLOAD FROM FILECAT.NET >>>
AVID Jazz here presents four classic and some hard to find or expensive Tommy Flanagan albums including original LP liner notes on a finely re-mastered and low priced double CD.
Never the most high profile or highly regarded jazz pianist, possibly because of his undynamic approach, self effacement and modesty, Tommy Flanagan is however highly regarded amongst his fellow musicians. He has been the pianist of choice for many classic jazz albums including Coltranes "Giant Steps" and Sonny Rollins' "Saxophone Colossus"
"Jazz……It's Magic", "The King And I", Trio Overseas" and "The Cats"
"For Jazz…..It's Magic", recorded in 1957 when Tommy was just 27 years old he is joined by a fine group of up and coming musicians. Curtis Fuller on trombone, Sonny Redd on alto, George Tucker on bass and Louis Hayes on drums. This is a hard to find or expensive early classic which is even difficult to find as the re-issue bearing Tommy Flanagan's name as the leader! "The King And I" was originally released under trumpeter Wilbur Harden's name in 1958 and is now also very difficult to find. The re-issue under Tommy Flanagan's name and titled "Plays the Music Of Rodgers & Hammerstein is again, also hard to find or expensive! The quartet which includes Tommy on piano, Wilbur Harden on trumpet, George Duvivier on bass and G.T.Hogan on drums take on the music of Rodgers & Hammerstein's "The King And I" and brings to the classic tunes a jazz edge all the while leaving the fine melodies in tact and recognisable! "Trio Overseas" recorded in Stockholm in 1957, is often best remembered for its clever cover artwork (check it out and work it out, on our cover)! However the music is of course paramount and here we have another classic Flanagan outing. The trio comprises Tommy on piano, Wilbur Little on bass and the legendary Elvin Jones on drums, all from the J.J.Johnson band who had been touring Europe when Tommy started to garner rave revues and had decided to go out on his own after Johnson had disbanded the group back in the States. "The Cats" recorded in April 1957 and aptly named as it features one of the greatest jazz cats who ever played the tenor…………Mr..John Coltrane. Fellow cats include Idrees Sulieman on trumpet, Kenny Burrell on guitar. Doug Watkins on bass and Louis Hayes on drums.
All four albums have been digitally re-mastered.