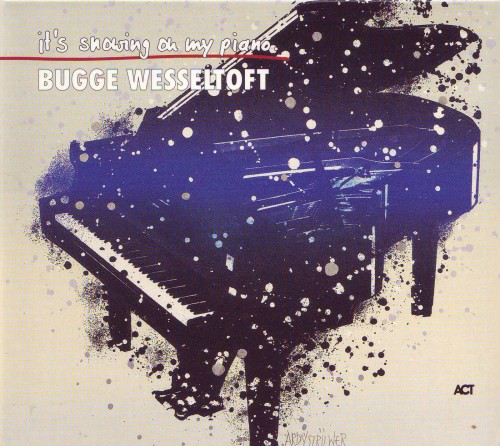 Artist:
Bugge Wesseltoft
Album:
It's Snowing On My Piano
Genre:
Contemporary Jazz, Piano Solo
Label:
ACT Music
Released:
1997
Quality:
FLAC (tracks)
Tracklist:
It´s Snowing On My Piano
In Dulce Jubilo
Mitt Hjerte Alltid Vanker
Deilig Er Jorden
O Little Town Of Bethlehem
Du Grønne, Glitrende Tre
Det Kimer Nå Til Julefest
What Child Is This (Greensleeves)
Kimer, I Klokker
Es ist ein Ros entsprungen
Stille Nacht
Into Eternal Silence
DOWNLOAD FROM FILECAT.NET >>>
"It's Snowing on My Piano", recorded on two days in October of 1997, is Bugge Wesseltoft's first solo piano recording and, in my opinion, his best recording thus far. Completely removed from all electronic styles, it is an extremely intimate recording of 12 Christmas songs. It is also a true masterpiece of European music and musicianship.
That Wesseltoft dared to record this material is astonishing enough, considering his background, but the result is an absolutely stellar achievement. He removes the "kitsch" that has been surrounding these songs ever since they were discovered by record companies as annual aural attacks on the present-buying public, and songs such as "In Dulce Jubilo", "O Little Town of Bethlehem", "What Child is This (Greensleeves)" and those Scandinavian and German timeless songs close to my heart are restored to what they once were and should be today – almost meditative pieces, embellished with silence and a particular Scandinavian sentiment, both of which restore the beauty of the songs.
There isn't one single note too many on this recording; there are long-sounding chords, which are held, single soaring notes and quiet improvisation, both of which are simply hypnotic. It is moody at times, it opens up a barren but beautiful Scandinavian landscape before the mind's eye and manages to warm the heart at the same time. When listened to closely several times, the simplicity and beauty of the sometimes extremely contemplative and thus spellbinding improvisation is astonishing. To me it seems as if, from my past experience with recordings of these songs, Bugge Wesseltoft is the one single being on the planet that has managed to capture their soul. I have no idea what the recording situation was like, but I have never heard a more relaxed-sounding CD than this one. You can almost hear the snow drizzling down outside and I like to imagine a candle-lit, warm and cozy studio in which the sound engineer is perhaps the only person present, equally absorbed by the beauty literally pouring from the instrument. As it was recorded in October, it was probably raining cats and dogs though.
After having listened to this CD a thousand times, I have one small problem with it. The title track, "It's Snowing on My Piano", the opener written by Bugge Wesseltoft which is mirrored by the closing tune, "Into Eternal Silence", does not entirely convey the sheer charme and elegance of the recording. Mind you, it's an absolutely wonderful piece, but knowing that today's consumers usually only listen to track 1 before making a purchase decision, I recommend skipping it and taking in everything from track two onwards to see if you like this CD. Return to track 1 after you've heard the core of the CD, and the bookends will become the integral part they were meant to be.
You know the kind of questions one gets asked once in a while: Which concert, recording session or event in music history would you have liked to be present at? I love Duke Ellington and Basie, Miles Davis and Bill Evans, Teddy Wilson and Ray Brown, Janis Joplin and Hendrix, Led Zeppelin and Deep Purple, Status Quo and Thin Lizzy, the Sex Pistols and The Stiff Little Fingers, but my answer invariably comes faster than any note on "It's Snwoing on My Piano": I would have loved to be sitting next to Bugge Wesseltoft, at a respectful distance, watching him record this masterpiece. One day I will attend one of Bugge Wesseltoft's concerts, try to seek him out afterwards and give him a quiet hug for having put this music into my life.
Volkher Hofmann