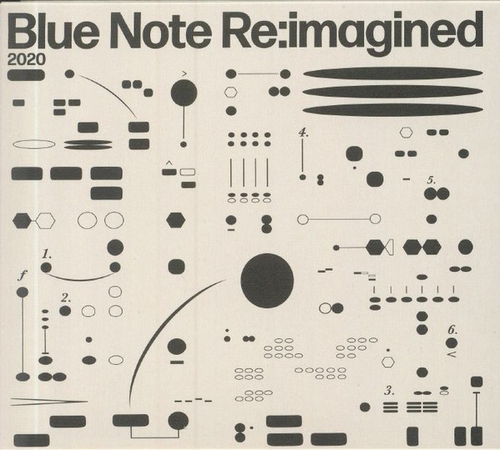 Artist:
Various
Album:
Blue Note Re:imagined
Genre:
Contemporary Jazz
Label:
Decca / Blue Note
Released:
2020
Quality:
FLAC (tracks+.cue)
Tracklist:
CD 1:

Jorja Smith - Rose Rouge (5:59)
Ezra Collective - Footprints (6:21)
Poppy Ajudha - Watermelon Man (Under the Sun) (4:31)
Jordan Rakei - Wind Parade (4:49)
Skinny Pelembe - Illusion (Silly Apparition) (4:13)
Alfa Mist - Galaxy (9:13)
Ishmael Ensemble - Search for Peace (4:21)
Nubya Garcia - A Shade of Jade (6:48)
CD 2:

Steam Down feat. Afronaut Zu - Etcetera (4:40)
Blue Lab Beats - Montara (5:52)
Yazmin Lacey - I'll Never Stop Loving You (4:57)
Fieh - Armageddon (3:29)
Mr Jukes - Maiden Voyage (4:13)
Shabaka Hutchings - Prints Tie (6:41)
Melt Yourself Down - Caribbean Fire Dance (3:15)
Emma-Jean Thackray - Speak No Evil (Night Dreamer) (5:00)
DOWNLOAD FROM FILECAT.NET >>>
In the jazz world, it is an established tradition for musicians from one generation to pay recorded tributes to their forebears. Blue Note, the music's best-known label, has issued similarly approached outings over the decades. Who can forget Us3's double-platinum Hand on the Torch, Madlib's Shades of Blue, or French electro mavens St. Germain's quadruple-platinum sample-delic Tourist?
Blue Note Re:Imagined is a 16-track anthology that features the current generation of England's jazz renaissance players dialoguing across time and distance with the label's catalogue. Some of these artists, including the Ezra Collective ensemble and saxophonists Shabaka Hutchings and Nubya Garcia, are globally well known, but other names will register as new. Jorja Smith's "Rose Rouge" covers and completely revises the St. Germain tune from Tourist, but it's only fair, since the original sampled the hell out of Marlena Shaw's Cookin' with Blue Note at Montreux album. Smith is a soul singer with a pedigree in jazz phraseology and a smooth, authoritative delivery. Led by James Rudolph Cresswick's rumbling double bassline, she accents the R&B and slows down the skittering drum and bass loops considerably. Ezra Collective learned Wayne Shorter's "Footprints" while they were still teens. They deliver it with creativity and taste as drummer Femi Koleoso's syncopated hip-hop shuffle meets lithe, summery horns and Joe Armon-Jones' expertly layered piano and electric keyboards. (Another Shorter take is on set closer "Speak No Evil." Sung by Emma-Jean Thackery, it makes use of Detroit techno and jazz house.) Skinny Palembe go even further afield with their steamy revisioning of Andrew Hill's "Illusion." The original contained dissonant strings and a syncopated snare playing counterpoint to the pianist's skeletal melody. Here, detuned snares and tom-toms, haunted keyboard ambience, and dubby Afro-funk guitars meet spooky group-chanted vocals (think Dr. John's "I Walk on Gilded Splinters") in a journey to another spiritual reality. Ishmael Ensemble transform McCoy Tyner's "Search for Peace," into a blissed-out exercise in trip-hop dreaminess. Nubya Garcia doesn't take many liberties with Joe Henderson's "A Shade of Jade" outside of production. One of her prime influences, she stitches together his finger-popping hard bop, reverbed drums, and spacey effects; it sounds like it was composed yesterday. Nottingham R&B and soul singer Yazmin Lacey dug deep into the label's catalogue for her supper club reading of Dodo Greene's sultry, smoky jazz ballad, "I'll Never Stop Loving You." Hutchings read of Bobby Hutcherson's "Prints Tie" makes indelible the connection between the vibraphonist's hypnotic modal groove and '70s Krautrock, underscored by a glorious bass clarinet solo. While not everything on Blue Note Re:Imagined works, most of these updated versions successfully recontextualize the originals with an unfettered vision of a new, expanded jazz language.
Review by Thom Jurek