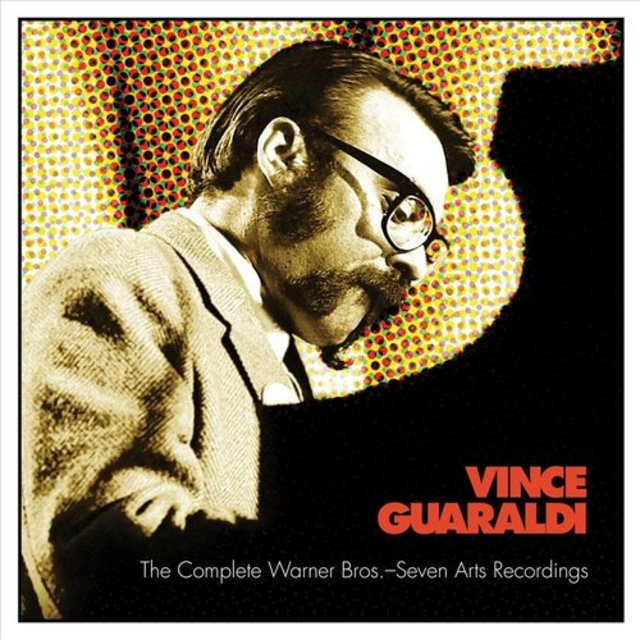 Artist:
Vince Guaraldi
Album:
The Complete Warner Bros.-Seven Arts Recordings
Genre:
Mainstream Jazz, Cool
Label:
Omnivore Recordings
Released:
2018
Quality:
FLAC (tracks+.cue)
Tracklist:
CD 1:
Oh, Good Grief! (1968)

Linus and Lucy (2:59)
You're in Love, Charlie Brown (3:09)
Peppermint Patty (2:40)
Great Pumpkin Waltz (3:37)
He's Your Dog, Charlie Brown (3:10)
Oh, Good Grief! (2:38)
Red Baron (4:49)
Rain, Rain Go Away (5:06)
The Eclectic Vince Guaraldi (1968)
Nobody Else (3:12)
Lucifer's Lady (6:56)
Black Sheep Boy (2:43)
Once I Loved (8:29)
The Beat Goes On (3:50)
Yesterday (3:38)
Coffee and Doe-Nuts (7:01)
Reason to Believe (2:56)
It Was a Very Good Year (6:43)
CD 2:
Previously Unissued Bonus Tracks (1968-1969)

Do You Know the Way to San Jose (take 15) (5:22)
The Beat Goes On (alternate take/take 14) (7:19)
Oh, Happy Day (3:45)
The Sharecropper's Daughter (2:40)
Alma-Ville (1969)
The Masked Marvel (5:20)
Cristo Redentor (4:49)
Detained in San Ysidro (3:33)
Eleanor Rigby (5:10)
Uno y Uno (2:14)
Alma-Ville (4:34)
Rio from the Air (6:12)
Watch What Happens (4:12)
Jimbo's (7:27)
DOWNLOAD FROM FILECAT.NET >>>
After years of struggle with Fantasy Records, Vince Guaraldi finally extricated himself from his contract. In 1968, he signed with Warner Bros.' Seven Arts imprint. All three Seven Arts albums and four bonus tracks are included in this double set from Omnivore, representing the final sides Guaraldi cut for a major during his lifetime.
Warner wanted to play it safe. The first nine tracks on disc one come from Oh, Good Grief!, a series of Peanuts themes. However, the title track and "Linus and Lucy" reveal how this set differs from anything he previously recorded. The pianist overdubs electric harpsichord onto his acoustic piano on all but two tracks, and gives guitarist Eddie Duran an electric. This set is one of Guaraldi's finest albums. Its different shadings, textures, and tones make the music energetic, swinging. Duran's electric guitar and the harpsichord add a pronounced thump to the material. Other highlights include the R&B-tinged "Peppermint Patty" and the grooving "Red Baron."
The other two albums have never been digitally reissued prior to this set. The easy explanation is because they flopped. On The Eclectic Vince Guaraldi in 1969, the pianist was given creative control, and went wild. He used two sets of backing musicians and an 11-piece string section on four of the set's nine tunes. His acoustic jazz trio is present on only two selections. He also played guitar and sang on a pair of truly awful covers of Tim Hardin's "Reason to Believe" and "Black Sheep Boy." Despite the excess, there is great music here, including the rocking "Lucifer's Lady" (which appeared edited in A Boy Named Charlie Brown that year), the acoustic trio and strings on a lilting read of the Beatles' "Yesterday," and the trio's take on "It Was a Very Good Year," which is quietly dramatic. The bonus material commences disc two, and among the four tunes is a rocking cover of "Do You Know the Way to San Jose" with the electric harpsichord and Duran's six-string offering crack solos. "The Sharecropper's Daughter" is an excellent New Orleans-style stride boogie.
At Warner's insistence, Shorty Rogers produced Alma-Ville. It's a focused improvement over Eclectic. The harpsichord is gone, but the different sets of sidemen remain. Highlights include the title cut -- a gorgeous update from his 1962 debut album, Cast Your Fate to the Wind: Jazz Impressions of Black Orpheus -- while "The Masked Marvel" is a tight original that nods directly at Ramsey Lewis. The samba-fied read of Duke Pearson's "Christo Redentor" is striking for its slippery groove, bluesy vamp, and 12-string acoustic solo. "Rio from the Air" (another samba-drenched jazz tune) and the breezy bossa of "Watch What Happens" (from the film The Umbrellas of Cherbourg) are highlights as well. Despite the intense focus and creativity on display, it didn't matter: Warner didn't offer a promotional budget and left Alma-Ville to clutter the retail bins. Omnivore commissioned Michael Graves to do a high-definition 24/96 mix, highlighting the essential place this music has in Guaraldi's discography. This cannot be overstated. This is essential for any fan.
Review by Thom Jurek