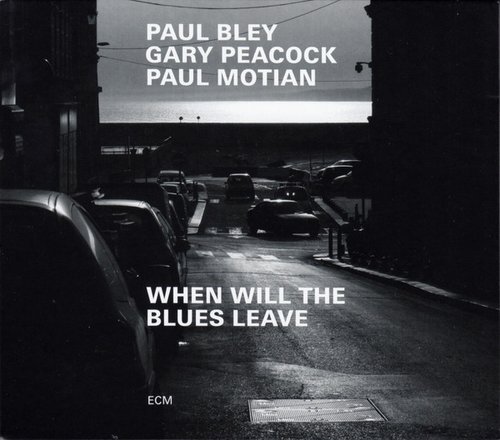 Artist:
Paul Bley, Gary Peacock, Paul Motian
Album:
When Will the Blues Leave
Genre:
Post-Bop, Avant-Garde Jazz
Label:
ECM Records
Released:
2019
Quality:
FLAC (tracks)
Tracklist:
Mazatlan (P.Bley) - 11:35
Flame (P.Bley) - 5:37
Told You So (P.Bley) - 9:49
Moor (Peacock) - 7:14
Longer (P.Bley) - 5:33
Dialogue Amour (P.Bley) - 6:01
When Will the Blues Leave (Coleman) - 5:26
I Loves You, Porgy (Gershwin-Gershwin) - 4:56
DOWNLOAD FROM FILECAT.NET >>>
Personnel:

Paul Bley - piano
Gary Peacock - double bass
Paul Motian - drums
Paul Bley, Gary Peacock, and Paul Motian had been musical associates for more than 30 years when they recorded the studio offering Not Two, Not One for ECM in 1998. They had recorded together as early as 1963 for the Paul Bley with Gary Peacock session issued by the label in 1970 (including three tracks from a 1968 session with Billy Elgart instead of Motian). They worked together again in 1964 in a studio quartet with altoist John Gilmore released by Improvising Artists in 1975. The three players worked in various duos in concert and studio until Peacock suggested the reunion for Not Two, Not One, which they supported with a transatlantic tour the following year. This music dates from a show in 1999 in Lugano, Switzerland.
Some of the material will be familiar to longtime fans of the pianist and/or bassist, though it has all been thoroughly reworked. A fine example is Bley's "Mazatlan." It was first recorded for Touching from 1965. Already a free-ish number whose intro is framed by bop changes, this version commences with a quick thematic piano statement followed by a brief, swinging, elegant solo by Motian. During the ensemble play, Bley paints the middle and upper registers with his pointillistic brush as Peacock rumbles along the neck of his upright bass exchanging fours and eights with him, investigating the harmony as Motian carves out the space between. "Flame" is a delightful improvisational extrapolation on the jazz ballad form -- particularly for Peacock and Bley. "Told You So," a long Bley piano solo, commences as a stride blues before opening onto Eastern modalism, then a children's lullaby before returning to blues and spreading them incrementally across the body of the entire improvisation. Peacock's "Moor" is a chestnut that made its first appearance on the 1970 album; it has also graced his catalog several times since. This one is drenched in a modernist appropriation of bop. Motian's hi-hat and cymbals, accented by his snare as bassist and pianist, dig through the tune's head, engaging in a call-and-response dialogue before branching off toward free play. This version of "Dialogue Amor" -- that originally appeared on Not Two, Not One -- is looser, with Motian's ride cymbal haunting the foreground as Bley articulates melodic fragments that Peacock instinctively embellishes before guiding toward development, leaving Bley to quote from Charlie Parker's "Ornithology" in his solo. Ornette Coleman's title track is a hard-swinging post-bop exploration led forcefully by the rhythm section and artfully illustrated by the pianist. George Gershwin's "I Loves You Porgy," taken solo by Bley, traverses the New Orleans piano tradition, Tin Pan Alley, the New York cabaret lineage, and even the songbook of Stephen Foster in its elegant and canny illustration of lyric harmony and textural space to close the set. When Will the Blues Leave is a remarkable archival document that underscores how much potential this trio displayed, and what they might have accomplished had they played together more often.
Review by Thom Jurek