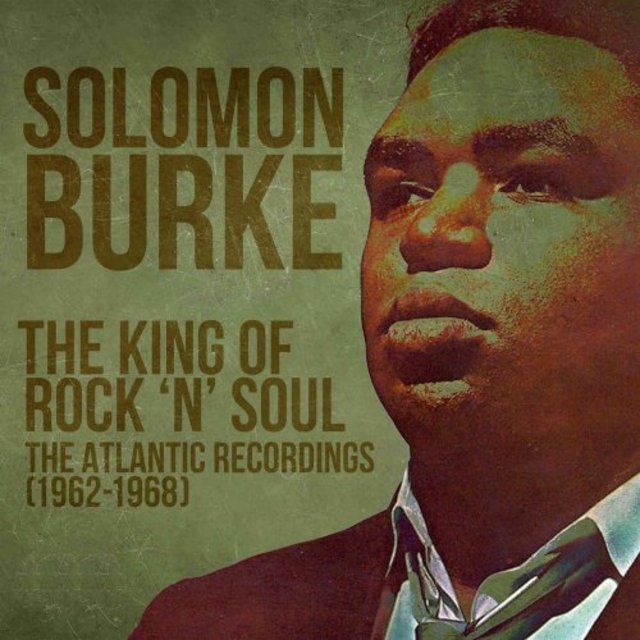 Artist:
Solomon Burke
Album:
The King Of Rock 'N' Soul (The Atlantic Recordings 1962-1968)
Genre:
Blues / Soul
Origin:
USA
Released:
2020
Quality:
mp3, 320 kbps
Tracklist:
CD 1- If You Need Me:

This Little Ring 2:36
Be Bop Grandma 2:15
It's All Right 2:30
Keep The Magic Working 2:07
Just Out Of Reach (Of My Two Empty Arms) 2:44
How Many Times 2:19
A Tear Fell 2:36
Cry To Me 2:31
I Almost Lost My Mind 2:19
Down In The Valley 2:26
Looking For My Baby 2:21
I'm Hanging Up My Heart For You (Stereo Alternate Take) 3:06
I'm Hanging Up My Heart For You 3:04
Baby (I Wanna Be Loved) 2:00
Gotta Travel On 2:11
I Really Don't Want To Know 3:33
Tonight, My Heart She Is Crying 2:19
Home In Your Heart 2:06
You Can Make It If You Try 2:27
Stupidity 1:56
Send Me Some Loving 2:23
Go On Back To Him 2:55
Words 2:28
I Said I Was Sorry 2:27
Can't Nobody Love You 2:33
If You Need Me 2:34
Hard Ain't It Hard 2:49
You Can't Love 'Em All 2:45
CD 2- Got To Get You Off My Mind:

Won't You Give Him (One More Chance) 2:36
Beautiful Brown Eyes 2:46
Beautiful Brown Eyes (Stereo Alternate Take) 3:46
You're Good For Me 2:51
He'll Have To Go 3:21
Goodbye Baby (Baby Goodbye) (Stereo Alternate Take) 3:14
Goodbye Baby (Baby Goodbye) 3:22
Someone To Love Me 3:04
Everybody Needs Somebody To Love 2:46
Yes, I Do 3:06
The Price 2:47
Tonight's The Night 2:48
Got To Get You Off My Mind 1:58
Peepin' 2:30
Little Girl That Loves Me 2:31
Dance, Dance, Dance 2:44
Maggie's Farm 2:16
Only Love (Can Save Me Now) 2:17
Someone Is Watching 2:52
I Don't Want You No More 2:46
(No, No, No) I Can't Stop Loving You Now 2:25
Baby Come On Home 3:15
I Feel A Sin Coming On 2:50
Lawdy Miss Clawdy 2:34
Mountain Of Pride 2:15
Suddenly 2:46
CD 3 - Meet Me In Church:

When She Touches Me (Nothing Else Matters) 2:42
Keep Lookin' 2:40
Woman How Do You Make Me Love You Like I Do 2:48
Time Is A Thief 2:46
Presents For Christmas 3:10
Keep A Light In Your Window (Till I Come Home) 3:24
Take Me (Just As I Am) 3:02
I Stayed Away Too Long 2:39
Need Your Love So Bad 2:47
It's Just A Matter Of Time 2:57
Detroit City 2:46
Party People 2:37
It's Been A Change 2:17
Soul Meeting 3:35
That's How It Feel 3:37
By The Time I Get To Phoenix 2:58
I Wish I Knew (How It Would Feel To Be Free) 2:52
Shame On Me 3:32
Save It 2:23
Meet Me In Church 3:34
Then You Can Tell Me Goodbye 3:04
Why, Why, Why 2:26
Get Out Of My Life Woman 3:21
What'd I Say 4:48
Since I Met You Baby 3:44
DOWNLOAD FROM FILECAT.NET >>>
This 3-CD SoulMusic Records' set celebrates the recordings that Solomon Burke made for the legendary Atlantic Records label between 1960 and 1968. Solomon is generally acknowledged as one of the greatest soul singers to emerge during the genre's golden days. He signed to Atlantic before 'soul music' became a bona fide sub-genre of African-American music and it was Solomon who helped define this new movement and he was, in fact, one of the first artists to use 'soul' to describe his music. He would eventually be known the world over as 'The King of Rock and Soul'.
His Atlantic recordings are presented in chronological order of recording across the three discs and each session is identified by date, location and all the musicians present are identified (where known). This celebratory definitive collection includes the content of all six of the LPs released during Solomon's tenure with Atlantic plus all non-album tracks for a total of 79 soulful cuts.
Disc One presents Solomon's earliest recordings beginning with three titles recorded for the Singular record label which were purchased by Atlantic along with his contract in 1959. Moving on to his first Atlantic sessions between 1960 and 1962 it contains his first hits, 'Just Out of Reach', 'Cry to Me', 'Down in The Valley', 'I Really Don't Want to Know' and 'If You Need Me' (written by Wilson Pickett). Also featured for the first time on CD anywhere, the original 45 mix of 'I'm Hanging Up My Heart for You'. It is significant that Solomon enjoyed hits with revivals of country-and-western songs before other artists – such as Ray Charles and Esther Phillips – followed suit. These sessions were all produced by Atlantic's Jerry Wexler and the emerging talent that was songwriter & hitmaker Bert Berns.
Disc Two continues with nine sessions over 26 tracks recorded between 1963 and 1966. This was Solomon's prime hitmaking era featuring as it does his only No 1 R&B chart hit, 'Got to Get You Off My Mind', 'You're Good To Me', 'The Price' and probably his most famous song 'Everybody Needs Somebody to Love', now perhaps more associated with The Blues Brothers. This disc also features two more tracks making their worldwide CD debut; the original 45 mix of 'Goodbye Baby (Baby Goodbye)' and the original 45 mix of 'Beautiful Brown Eyes'. The era covered by this disc also sees the arrival of some very important backing vocalists like Cissy Houston and Dee Dee Warwick.
Disc Three takes us from 1966 to 1968 after which he would leave Atlantic Records. For the first time Atlantic had Solomon record outside of New York when he cuts his first sessions for producer Chips Moman at the American Studios in Memphis. Here he is able to work with such legendary session musicians and songwriters as Bobby Womack, Reggie Young, Dan Penn, Spooner Oldham and many others. By now most of the backing vocals on Solomon's sessions are performed by The Sweet Inspirations. This disc also features for the first time on the same CD both sides of the 45 issued as The Soul Clan which featured Solomon singing with Wilson Pickett, Don Covay, Joe Tex and Arthur Conley on the hit 'Soul Meeting' and 'That's How It Feels', both produced by Covay. Other hits on Disc 3 include 'Keep Looking', 'Take Me (Just As I Am)', 'Keep A Light in The Window' and 'I Wish I Knew How It Would Feel to Be Free'.