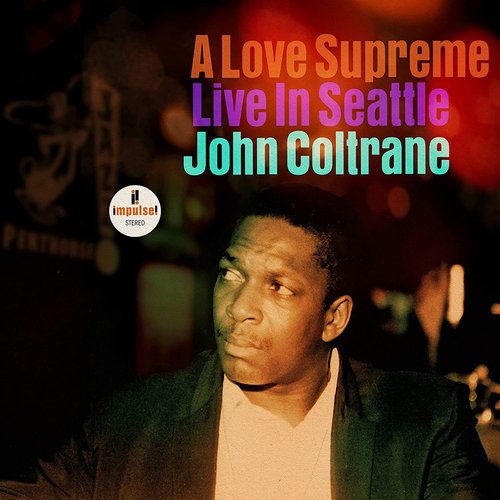 Artist:
John Coltrane
Album:
A Love Supreme: Live in Seattle
Genre:
Avant-Garde Jazz, Free Jazz, Hard Bop
Label:
Impulse!
Released:
2021
Quality:
FLAC (tracks+.cue)
Tracklist:
A Love Supreme, Pt.I: Acknowledgement (21:53)
Interlude 1 (2:29)
A Love Supreme, Pt.II: Resolution (11:05)
Interlude 2 (6:23)
A Love Supreme, Pt.III: Pursuance (15:27)
Interlude 3 (6:32)
Interlude 4 (4:21)
A Love Supreme, Pt.IV: Psalm (7:22)
DOWNLOAD FROM FILECAT.NET >>>
Personnel:

John Coltrane, Pharoah Sanders - tenor saxophone, percussion

McCoy Tyner - piano
Jimmy Garrison, Donald Rafael Garrett - bass
Elvin Jones - drums
Carlos Ward - alto saxophone
A Love Supreme: Live In Seattle comes from a gig at The Penthouse in October 1965. The recording, by a septet, is a radical reading of John Coltrane's suite which has only previously been heard by friends and students of saxophonist and educator Joe Brazil, who taped it and who, few days earlier, had played flute on Coltrane's Om (Impulse, 1968). Brazil passed in 2008 and by a route not yet made public, the tape has been acquired and restored by Impulse. Audio quality is good and the album is a must-have for Coltrane aficionados.
Made with a band built around Coltrane's classic quartet, A Love Supreme: Live In Seattle is wilder than the original studio album, A Love Supreme (Impulse, 1965), and wilder too than the suite's only other previously issued live performance, from the Antibes Jazz Festival in July 1965, which was given its first official release on the 2 CD set A Love Supreme Deluxe Edition (Impulse, 2002). Both of those albums were made by the classic quartet. A Love Supreme: Live In Seattle is closest to, but still distant from, the sextet version Coltrane began but did not complete in December 1964 with second tenor player Archie Shepp and second bassist Art Davis, which is included on the aforementioned Deluxe Edition.
In Seattle, Coltrane, pianist McCoy Tyner, bassist Jimmy Garrison and drummer Elvin Jones were joined by Pharoah Sanders on tenor saxophone, Carlos Ward on alto saxophone and Donald Garrett on bass—the same sextet, plus Ward, which is heard playing a different programme on John Coltrane Live In Seattle (Impulse, 1971), which was recorded at The Penthouse during the same engagement. The running time of A Love Supreme: Live In Seattle also differs from the two previously released versions. The original studio version runs for 33 minutes and the Antibes performance for 48 minutes. On A Love Supreme: Live In Seattle the suite itself lasts 55 minutes, plus there are four "Interludes" which bring the total running time up to 77 minutes. But that's far from all....
The most important difference, however, between the Seattle performance and the earlier ones is how the suite is approached. As the expanded personnel, the date of the recording and the running time indicate, this is Coltrane decisively embarked on his final phase, moving on from the classic quartet (here on the cusp of breaking up) and following the looser, more collectivist direction set out on Ascension (Impulse, 1966), recorded in June 1965. The opening track on A Love Supreme: Live In Seattle, "Acknowledgement," for instance, which runs just shy of 22 minutes, is almost unrecognizable for its first 15 minutes. These are, from a 2021 perspective, more like a preview of "The Creator Has A Master Plan" from Sanders' Karma (Impulse, 1969), without the bells and incense. Only in the sixteenth minute do we hear the iterations of the signature four-note motif which open the studio and Antibes versions of "Acknowledgement." The other three parts of the suite are also fresh hewn, although the closing "Psalm" adheres relatively closely to the earlier recordings.
The sound is remarkably good given this was an amateur recording, made with Coltrane's consent by Joe Brazil using an onstage two-microphone set-up and an Ampex reel-to-reel machine. The sound is mostly clear and free of distortion. Clearly, Brazil took good care of the tapes and Impulse engineer Kevin Reeves has done a good job with them.
Coltrane only rarely performed "A Love Supreme," and for decades it was generally believed that the Antibes concert was the only live recording that existed. Then in 2021 along comes Seattle. The new album raises the tantalising possibility that there may be more recordings of the suite out there in private hands. Between Antibes in July and Seattle in October 1965 we know Coltrane performed in Paris, Comblain (Belgium), Chicago, Cincinnati, Cleveland (for six nights), San Francisco (for twelve nights), Indianapolis, and in California, possibly in San Francisco again (for six nights). Did he perform "A Love Supreme" in any of those locations and if so was it taped? Time will tell.
Review by Chris May