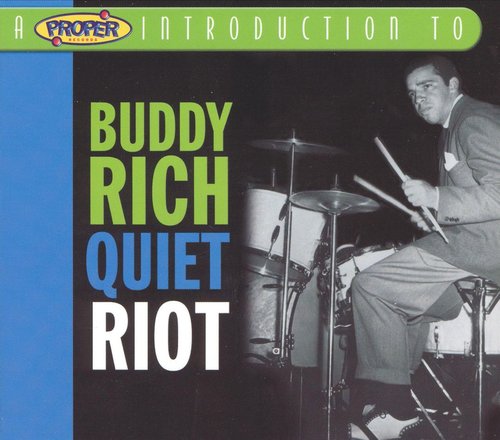 Artist:
Buddy Rich
Album:
Quiet Riot (A Proper Introduction to Buddy Rich)
Genre:
Swing, Bop, Big Band
Label:
Proper Records
Released:
2004
Quality:
FLAC (tracks+.cue)
Tracklist:
Dateless Brown (3:19)
Desperate Desmond (3:10)
Rags to Riches (2:44)
Quiet Riot (2:54)
Poontang (3:52)
Just You, Just Me (3:53)
Great Moments (2:55)
Feather Merchant (4:07)
A Little Handicap (2:55)
Cool Breeze (3:19)
Daily Double (3:25)
Oop Bop Sh-Bam (2:59)
That's Rich (3:20)
Budella (Blue Skies) (4:15)
Nellie's Nightmare (5:33)
What Is This Thing Called Love? (3:43)
The Goof and I (3:33)
A Man Could Be a Wonderful Thing (2:40)
Little White Lies (2:57)
Queer Street (3:08)
I May Be Wrong (3:18)
Robbins Nest (4:12)
Good Bait (2:54)
DOWNLOAD FROM FILECAT.NET >>>
This is what Proper does best: assemble a truly solid look at an individual artist, represent the major phases in his career, and reveal not only his talents, but some stellar moments by the musicians who played with him. Along with Buddy Rich's singular style of drumming in the '40s, listeners get to hear -- just to name a few -- arrangers as diverse as Neal Hefti, Tadd Dameron, and Al Cohn (who also plays sax here); stellar sidemen like Jimmy Giuffre, Big Sid Catlett, Tommy Allison, Tony Scott, and Red Rodney; and the vocals of Ella Fitzgerald. There are 23 cuts on this monster, and while nothing here is a toss-away, there are some true standouts, such as Dameron's "Cool Breeze," "Desperate Desmond," a fine reading of the Illinois Jacquet/Lucky Thompson number "Robbins Nest," and one of the sweetest instrumental versions of "What Is This Thing Called Love?" ever put to tape.
Review by Thom Jurek