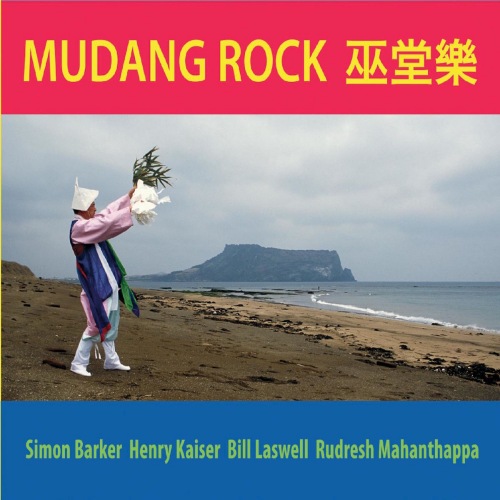 Artist:
Simon Barker, Henry Kaiser, Bill Laswell, Rudresh Mahanthappa
Album:
Mudang Rock 巫堂樂
Genre:
Free Improvisation
Label:
Fractal Music
Released:
2018
Quality:
FLAC (tracks)
Tracklist:
Orange Kut 11:45
Logarhythm 06:54
Emphyrio Salpuri 08:42
The Story Changes 08:30
Silappadikaram Pacifica 08:05
Yongari vs Bulgasari 19:17
The Final Ritual 11:10
DOWNLOAD FROM FILECAT.NET >>>
Personnel:

Alto Saxophone – Rudresh Mahanthappa
Bass – Bill Laswell
Cello – Danielle Degruttola (tracks: 4)
Drums – Simon Barker
Guitar – Henry Kaiser
Haegum – Soo-Yeon Lyuh (tracks: 3)
Piano – Tania Chen (tracks: 4)
Mudang Rock has all-star improvisors Henry Kaiser and Bill Laswell teaming up with saxophonist Rudresh Mahanthappa and drummer Simon Barker for a program of tunes inspired by the Korean Shamanic tradition. That may seem like an odd choice at first glance since there are no Koreans in the band (there is a Korean guest on one tune) but Kaiser and Laswell have histories improvising in a Korean style that go back to the '80s, and Simon Barker has spent much of his life assimilating the Western drum kit into traditional Korean music. Mahanthappa may not have direct experience, but he's an excellent improvisor and had no problems fitting in. You can hear the connection almost immediately on the opening track as Laswell and Mahanthappa find common ground almost instantly. The music of Korean Shamanism is very different than what Westerners are used to. The drums generally don't play a steady rhythm or swing, in the Western sense. They're sometimes startling. Remember that a Shaman's job is to confront spirits and otherworldly beings. This is not a quiet, contemplative set. Another aspect of this music that these guys really understand is when to sit out. There are some long passages with just one or two instruments playing. On the first track, it's a good three minutes before Kaiser comes roaring in on guitar. We get a little extra Korean flavor on "Emphyrio Salpuri" when Soo-Yeon Lyuh joins the quartet on haegum, and "The Story Changes" features some interesting cello and piano but the quartet tracks are the ones that really stand out. This may have been their first outing as a unit, but the level of connection and interplay is easily apparent. This album isn't for everyone, but adventurous ears will be rewarded.