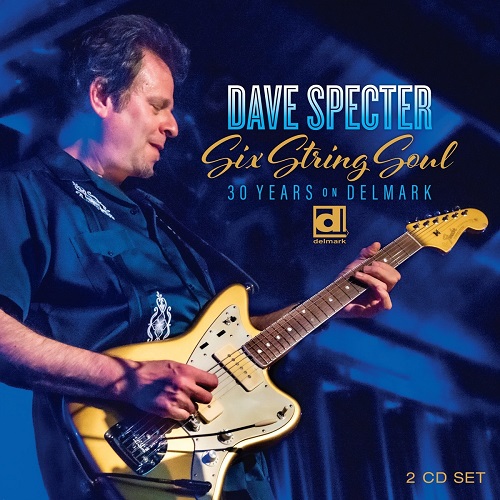 Artist:
Dave Specter
Album:
Six String Soul: 30 Years on Delmark
Genre:
Modern Electric Blues
Label:
Delmark Records
Released:
2021
Quality:
FLAC (tracks)
Tracklist:
CD 1:

Buzz Me (Feat. Barkin' Bill Smith & Ronnie Earl) (4:32)
Wind Chill (Feat. Ronnie Earl) (5:27)
Railroad Station (Feat. Barkin' Bill Smith) (7:14)
Specter's Walk (4:59)
Fortune Tellin' Man (Feat. Jesse Fortune) (4:31)
Ridin' High (3:46)
Sweet Serenity (Feat. Tad Robinson) (5:21)
West Side Stroll (4:38)
Seventy-four (Feat. Willie Kent) (6:51)
Can't Stay Here No More (Feat. Tad Robinson) (5:13)
Get Back Home (Feat. Lynwood Slim) (4:02)
Unleavened Soul (Feat. Jack Mcduff) (5:33)
St. Louis Blues (Feat. Floyd Mcdaniel) (5:59)
You're Gonna Be Sorry (Feat. Lurrie Bell) (3:29)
CD 2:

Blues On My Mind (Feat. Lenny Lynn) (6:17)
Texas Top (4:42)
Riverside Ride (Feat. Steve Freund) (6:48)
Feel So Bad (Feat. Jimmy Johnson) (6:46)
In Too Deep (Feat. Sharon Lewis) (5:17)
Got To Find A Way (Feat. Otis Clay) (3:54)
This Time I'm Gone For Good (Feat. Otis Clay) (5:31)
Chicago Style (Feat. Brother John Kattke) (3:34)
The Stinger (5:17)
Blues From The Inside Out (5:15)
March Through The Darkness (Feat. Brother John Kattke) (3:45)
Sanctifunkious (5:04)
The Blues Ain't Nothin (Feat. Jorma Kaukonen) (5:17)
Ballad Of George Floyd (Feat. Billy Branch) (5:15)
DOWNLOAD FROM FILECAT.NET >>>
Guitarist Dave Specter lives up to the enticing album title Six String Soul, with his career-to-date selection of 28 remastered tracks spanning his three decades with Chicago's Delmark records. It's so tempting to engage in the kind of wordplay found in the liner notes – a SPECTacular career retroSPECTive that we'll just go ahead. To be fair, Specter is more than just a guitarist. He is a songwriter, producer, arranger, bandleader, and has recently become a vocalist too. Currently he is enjoying a rewarding career surge that is arguably is stronger than any, coming off his acclaimed 2019 Blues From the Inside Out and his digital single with Billy Branch, "The ballad of George Floyd." He could conceivably have another three decades left.
Specter plays in a clean, no-effects style, demonstrating versatility across soul, jazz, funk, and several styles of blues. He is assertive, dependable, and always in 'chops up' mode. It's tempting to compare his clean, rich tone to Ronnie Earl or to Jimmie Vaughan, but he doesn't come across with the spirituality of the former and his Chicago stylings differ from Vaughan's Texas traits. Due to Specter's versatility, we'll stay away from the term 'signature style' that we may easily associate with the other two. It seems that Specter is as influenced by Chicago greats Jimmy Johnson and Son Seals as he is by blues leaning jazz guitarists such as Kenny Burrell and Wes Montgomery.
The testimony to any artist's greatness is usually reflected in the musicians that have accompanied him on his journey. Consider these names that adorn these tracks, many of them legendary – Otis Clay, Jimmy Johnson, Ronnie Earl, Lurrie Bell, Billy Branch, Willie Kent, Jorma Kaukonen, Jack McDuff, Lynwood Slim, Sharon Lewis, Jesse Fortune, Bark' Bill Smith, Steve Freund, Floyd McDaniel, Tad Robinson, Lenny Lynn, and Brother John Kattke.
The project moves chronologically beginning with his debut, 1991's Bluebird Blues with Barkin' Bill Smith and Ronnie Earl with "Wind Chill," an instrumental featuring Earl, and the T-Bone Walker styled "Railroad Station Blues" featuring Smith as the two standout tracks. Two selections come 1992's Fortune Tellin' Man and just one form 1994's Blueplicity. Disc One begins to pick up some steam with vocalist Tad Robinson's performance on "Sweet Serenity from 1995's Live in Europe and again with horn-slathered, Robinson led "Can't Stay Here No More" from 1995's Wild Cards. Both tracks from 1996's Left Turn on Blue are among the strongest, "Get Back Home" with vocalist Lynwood Slim and the late pianist Barrelhouse Chuck and the instrumental with a conventional jazz quintet, "Unleavened Soul," featuring Jack MacDuff on organ. Disc One ends with a scintillating jump blues version of the classic "St. Louis Blues" from 1996's West Side Baby and the ever-soulful traditionalist Lurrie Bell on "You're Gonna BE Sorry" from 1998's Kiss of Sweet Blues.
Disc Two begins by excerpting one track each from Blues Spoken Here (1998), Speculatin' (2000), and What It Is (2005). Essentially, these build momentum into the strength of this disc, found in tracks 4-8 and then at the end where we have four selections from the recent Blues From The Inside Out with Jorma Kaukonen and Brother John Kattke as well as "The Ballad of George Floyd" with Billy Branch, which has been selected for the exhibit "Songs of Conscience, Sounds of Freedom" at the Woody Guthrie Center, curated by the Grammy Museum. But let's return to those five aforementioned tracks, arguably the best consecutive sequence in this terrific 2-CD set. The venerable living legend Jimmy Johnson leads on "Feel So Bad' followed by the Koko Taylor-like Sharon Lewis with "In Too Deep," both from Live in Chicago (2008). Next are three from 2014's Message in Blue with Otis Clay on "Got to Find a Way" and "This Time I'm Gone for Good" which is features Specter's most incendiary solo on the entire set. Brother John Kattke does a whole lot of name dropping in the swinging "Chicago Style." While we're here on Message in Blue, the instrumental "The Stinger" with horns, is one of the set's best instrumental tracks too.
This writer covered Blues From The Inside Out for another outlet and feels that it's one of the strongest blues albums in recent years. Here is the lead paragraph – Versatile and virtuosic blues guitarist, Delmark Records' Dave Specter just may have made his strongest, most expressive album in his 35-year career. Proving that it's never too late, he makes his debut as a vocalist here on Blues from the Inside Out, a date that also features the renowned Jorma Kaukonen who plays on two of Specter's originals, one a co-write. In addition, fellow Chicago keyboardist and vocalist Brother John Kattke joins on this mix of blues, soul, funk, gospel and jazz, adding his vocal to four tracks. Three of Specter's tunes address hope, inspiration, and finding strength during these troubled times when even a U.S. President gets booed at a World Series game. Specter has own vocal version of booing POTUS 45 in "How Low Can One Man Go?" Interestingly, this set contains one of the political songs, "March Through Darkness" but omits the one about POTUS 45 (no need to give any further publicity we suppose).
The sequencing of songs across the two CDs is chronological but it's rather striking that there is a similar arc to both, building slowing, finding some terrific heat midway, cruising, and then finding additional heat at the end. Careers often go that way too. At present Specter is at the top of an arc and we can hope that his trajectory rises from here. There's plenty of life left in those six strings and he's only just started to sing.