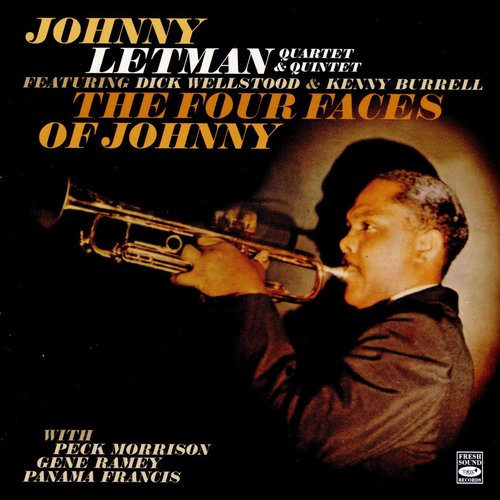 Artist:
Johnny Letman Quartet & Quintet
Album:
The Four Faces of Johnny
Genre:
Mainstream Jazz, Swing
Label:
Fresh Sound Records
Released:
2020
Quality:
FLAC (tracks+.cue)
Tracklist:
Mabel's Dream (Smith) - 4:32
Tina (Wellstood) - 4:22
This Time the Drinks' on Me (Letman) - 2:27
The Room Upstairs (Letman-Wellstood) - 3:39
Moanin' Low (Rainger-Dietz) - 3:06
Violets & Violins (Laparcerie-Lawrence) - 4:19
Say Si Si (Lecuona-Stillman) - 4:24
Sittin' Alone Countin' My Tears (Feather) - 4:21
Get Out of My Sight (Hedges) - 2:46
The Four Faces of Johnny (Letman) - 8:30
Tasty (Letman) - 3:15
Goodnight Irene (Ledbetter-Lomax) - 3:58
Oh, How I Miss You Tonight (Burke-Davis) - 2:34
DOWNLOAD FROM FILECAT.NET >>>
Johnny Letman (1917-1992) was a trumpeter and singer in the traditional- mainstream vein, who had been on the scene for quite a long time, playing with such bandleaders as Lucky Millinder and Cab Calloway, before rising to prominence in the late 50s. But his lack of recognition (on records, at least) had not been—like the fate of some other mainstreamers—a matter of simply being forgotten. Letman never was known to any extent until 1958, when he started working out of the Metropole in New York City.
His big, fat, walloping trumpet style drew from the Louis Armstrong-Roy Eldridge line, whereas his attack ranged from the crisply crackling to the exuberantly flamboyant. The high quality of this set is established by the outgoing musical personalities of Letman and pianist Dick Wellstood, as well as by guitarist Kenny Burrell's willingness and ability to match their extroversion note for note.