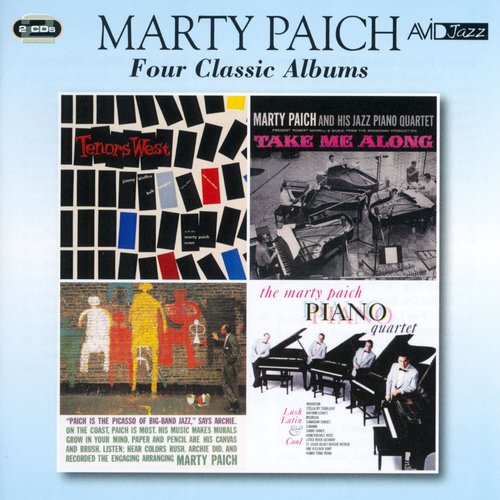 Artist:
Marty Paich
Album:
Four Classic Albums
Genre:
Cool, Bop
Label:
Avid Jazz
Released:
2015
Quality:
FLAC (tracks+.cue)
Tracklist:
CD 1:
Tenors West (1955)

Tenors West (3:22)
There's No You (3:06)
The Dragon (4:14)
Shorty George (3:22)
Paichence (4:06)
At the Mardi Gras (3:25)
Take the "A" Train (3:09)
Ballet du Bongo (8:27)
Line for Lyons (3:10)
Jacqueline (3:34)
Con-Spirito (3:04)
Take Me Along (1959)
Overture-Take Me Along (4:46)
Nine O'Clock (3:09)
Little Green Snake (3:01)
Promise Me a Rose (3:22)
But Yours (3:32)
Sid, Ol' Kid (5:04)
Patience of a Saint (4:08)
Staying Young (2:49)
Thinkin' Things (3:45)
We're Home (2:47)
CD 2:
The Picasso of Big Band Jazz (1957)

From Now On (5:58)
Walkin' on Home (4:27)
Black Rose (5:11)
Tommy's Toon (4:03)
New Soft Shoe (3:13)
What's New (3:35)
Easy Listnin' (5:11)
Martyni Time (3:09)
Nice and Easy (4:44)
Lush, Latin & Cool (1960)
Honky Tonk Train (2:49)
Invitation (2:41)
Autumn Leaves (4:07)
Honeysuckle Rose (2:30)
Stella by Starlight (2:38)
Cumana (2:39)
Sabre Dance (2:13)
Canadian Sunset (3:39)
St. Louis Blues Boogie Woogie (3:36)
Little Rock Getaway (2:26)
Misirlou (3:19)
One O'Clock Jump (3:20)
DOWNLOAD FROM FILECAT.NET >>>
AVID Jazz presents four classic Marty Paich albums, including original liner notes on a finely re-mastered and low priced double CD.
"Tenors West"; "Take Me Along" "The Picasso Of Big Band Jazz" and "Lush, Latin and Cool"
"In conclusion, music must be an expression with a purpose. It should convey a thought and remain within the borders of simplicity, whether it be jazz or classical or any other art form. The artistic importance is that it is music which brings esthetic pleasure to the listener" ….Marty Paich in original liner notes. Phew and hmmm!? Maybe you should just listen to "Tenors West", namely tenor-men, Jimmy Guiffre, Bob Cooper, Bob Enevoldsen and Harry Klee along with, among others, Marty Paich on piano, Conte Candoli on trumpet, Jack Dulong on baritone sax and Joe Mondragon on bass. A Jazz Piano Quartet!!?? Surely some mistake? For "Take Me Along", that's exactly what Marty Paich had to put together! Perhaps not entirely confidently at first, as a quote from the original liner notes attests, "I had some doubts about jazz being played on four pianos. The piano isn't the most colourful instrument and four of them playing at the same time seemed hopeless. Producer Dick Peirce gave me the answer, though, when he suggested I write for one pianist with eight hands! For some reason that seemed to clarify the whole concept and I went to work". We even get some humour in this further quote….."We tried to be very careful in selecting the eight hands for the album. I don't know any octopi who play great jazz, but we found something even better. Pete Jolly, Jimmy Rowles and Johnny Williams. I provided the seventh and eighth hands myself". The result you can of course hear for yourself by purchasing this fine album. As Marty concludes "This has been a real challenge …….I've tried to keep strictly in the jazz idiom……I'm glad they "took me along". I had a real good time!" For the "The Picasso Of Nig band Jazz" album Paich came up with the idea of using the instruments he was used to writing arrangements for in a small band format and enhancing them within the big band format. With this in mind he took his usual instruments, trumpet, alto sax, tenor sax, trombone, baritone sax and French horn and then added three more trumpets and two trombones together with a rhythm section. "He wasn't trying for a big band sound. He wanted, instead, to help swing and excite the small band in front….The results are something new and different". Check it out for yourself! Hey, it's that same Piano Quartet again for our final selection "Lush, Latin and Cool" A couple of quotes from the original liner notes should tell you all you need to know about this album. "There are some songs which come to be known as "piano melodies". If you can imagine such a collection of tunes being played by an excellent pianist (who has the additional happy faculty of possessing eight hands), you get some idea of what is presented in this album". "Above all, this is an album of fine listening music. The melodies are given full recognition and the individual musicians rise magnificently to every musical challenge".
All four albums plus have been digitally re-mastered.