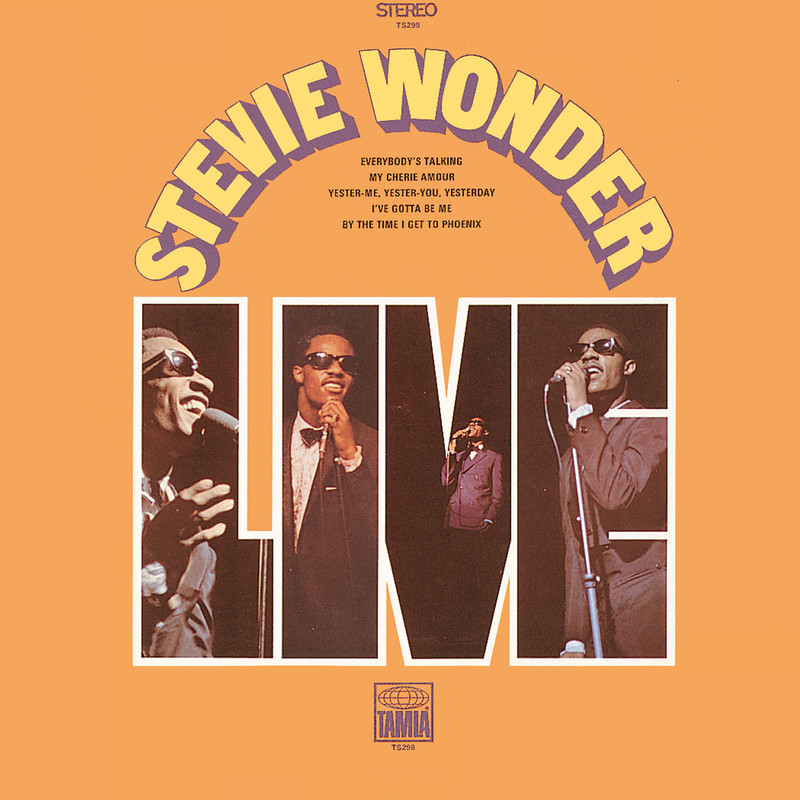 Artist:
Stevie Wonder
Album:
Stevie Wonder Live (Live/1970)
Genre:
Soul, Funk, R&B
Label:
UNI/MOTOWN
Released:
1970
Quality:
FLAC (tracks)
Tracklist:
Intro/Pretty World (Live/1970)
Sunny (Live/1970)
Love Theme From Romeo & Juliet (A Time For Us) (Live/1970)
Shoo-Be-Doo-Be-Doo-Da-Day (Live/1970)
Everybody's Talking (Live/1970)
My Cherie Amour (Live/1970)
Yester-Me, Yester-You, Yesterday (Live/1970)
I've Gotta Be Me/Once In A Lifetime (Live/1970)
A Place In The Sun (Live/1970)
Down To Earth (Live/1970)
Blowin' In The Wind (Live/1970)
By The Time I Get To Phoenix (Live/1970)
Ca' Purange (Live/1970)
Alfie (Live/1970)
For Once In My Life/Thank You Love (Live/1970)
DOWNLOAD FROM FILECAT.NET >>>
Stevie Wonder Live is an important document of an artist in transition, performing as an interpreter rather than the songwriting genius that would eventually blossom with material like "Superwoman," "Superstition," and revolutionary albums such as Songs in the Key of Life. The distinctive harmonica adds Wonder's personality to the big-band rendition of Bobby Hebb's eternal "Sunny"; the modulation and Wonder's vocals make for another perspective on this song that has caught the fancy of Sinatra and the Duke, Ella Fitzgerald, Pat Martino, and labelmate Marvin Gaye. The "innervision" the artist gives to "Sunny" and the harmonica-driven instrumental version of "Alfie" are somewhat expected gems from this artist, but the "Love Theme From Romeo and Juliet is something for the day and foreign to the future live shows of the eventual multi-Grammy award winner. "Shoo-Be-Doo-Be-Doo-Da-Day" (mistitled "Shee-Be-Doo-Be-Doo-Da-Day" on the album jacket) is a glimpse into the future. This is how Wonder sounded when opening for the Rolling Stones in Boston of 1972, that historic night when Mick and the boys were arrested in Rhode Island. The funky keyboards became an ever-present staple and audience favorite. The expansion of this 16-song single disc is mandatory, for historic as well as entertainment purposes. This is not Nilsson singing "Everybody's Talking"; the soulful rendition should've been a tremendous radio hit, had radio programmers jumped on it. It's a fusion of his Vegas-style accompaniment, the earthy keyboards, and his tremendous translation of the lyric. "My Cherie Amour" really displays his movement from pop artist to pop star the instrumentation is decidedly different from "Yester-Me, Yester-You, Yesterday"'s orchestrated parameters. That the singer/songwriter broke through the limitations of fronting a show group, the Motown Band, makes this document so much more valuable. "Yester-Me, Yester-You, Yesterday" was the 16th Top 40 hit he had up to this point in time, but he performs only six of those hits in this 17-song selection. At 59 minutes and 26 seconds, this album is half an hour per side, and that is squeezing a lot of sound onto vinyl in 1970. It really is like a double vinyl album, but should be expanded with additional concerts from the day, and the inclusion of some of his other hits. He teases the audience with his huge rendition of "For Once in My Life" at the beginning of the show, and makes good on the promise at the program's conclusion. But the harmonica version of "Alfie" working against the big band is really remarkable stuff, his mastery of that one instrument alone simply amazing. Yes, it's a show band backing up the legend, and the uniqueness of it when considering how dramatically his sound would change makes it all the more special.