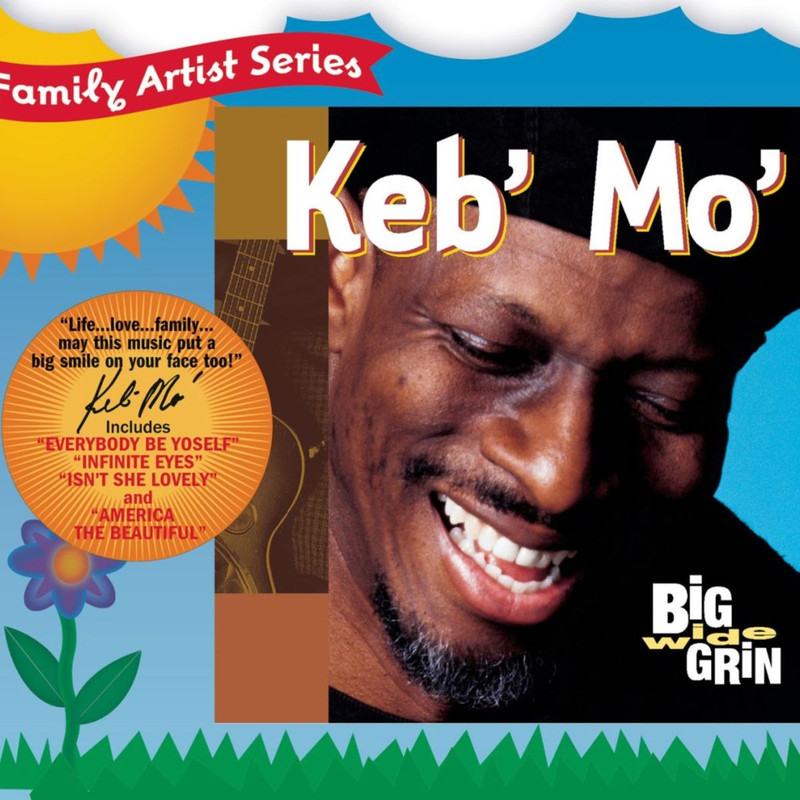 Artist:
Keb' Mo'
Album:
Big Wide Grin
Genre:
Modern Acoustic Blues, Modern Electric Blues
Origin:
USA
Released:
2001
Quality:
mp3, 320 kbps
Tracklist:
Everybody Be Yo'self (Album Version)
Love Train (Album Version)
Don't Say No (Album Version)
Infinite Eyes (Album Version)
Grandma's Hands (Album Version)
Color Him Father (Album Version)
Family Affair (Album Version)
The Flat Foot Floogie (Album Version)
I Am Your Mother Too (Album Version)
Big Yellow Taxi (Album Version)
Isn't She Lovely
America the Beautiful
DOWNLOAD FROM FILECAT.NET >>>
The rise in the number of titles in the children's music category around the turn of the century was accompanied by a shift in the approach to such recordings. As baby boomers, who remain loyal record buyers, have become parents, the artists who appeal to them have turned to children's music, but it often seems as though the records are still being made for the boomers, not their children. Though the recordings often concern the subjects of childhood and parenting, it is often hard to imagine a child actually enjoying the music. Such is the case with the Keb' Mo' children's album, Big Wide Grin, which is better regarded as a regular Keb' Mo' album on the theme of family rather than an album for children. The singer covers a number of pop evergreens from the late '60s and 1970s the O'Jays' "Love Train," Bill Withers' "Grandma's Hands," the Winstons' "Color Him Father," Sly and the Family Stone's "Family Affair," Joni Mitchell's "Big Yellow Taxi," and Stevie Wonder's "Isn't She Lovely" and he reaches back even further for the swing-era standard "The Flat Foot Floogie" and "America the Beautiful." All of these are likely to be familiar to parents of a certain age, and most have something to do with family issues, but only a couple are likely to appeal to children. This is not to say that, to be a children's album, a record must be filled with singalongs for the preschool set. But albums like this belong to a recent subset of the children's market that should perhaps be labeled "parents' music." In the case of Keb' Mo', the recording serves to ease him even more in the direction of being a folk-pop interpreter, an approach he has embraced increasingly since initially coming across as a new-style folk-blues singer.