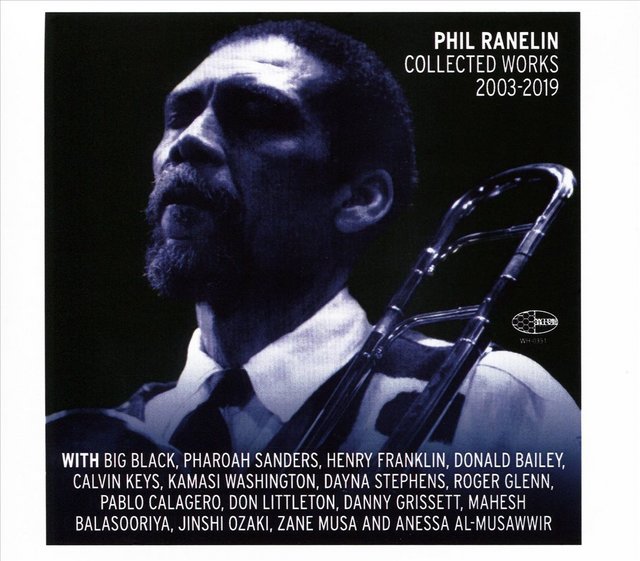 Artist:
Phil Ranelin
Album:
Collected Works 2003-2019
Genre:
Post-Bop, Contemporary Jazz
Label:
Wide Hive Records
Released:
2019
Quality:
FLAC (tracks+.cue)
Tracklist:
CD 1:

Freddie's Groove (8:58)
Horace's Scope (5:27)
This One's for Trane (8:24)
Living a New Day (8:12)
Blue Bossa (6:23)
Metamorphosis (7:33)
A Tear in Elmina (7:11)
Close Encounters (6:30)
Shades of Dolphy (8:39)
CD 2:

In Search of the One (8:38)
Moorish (3:18)
Perseverance 2019 (11:12)
Full Moon (6:43)
Excursion to Fantasy (8:44)
Spiritual Vibrations (7:18)
How Do We End All This Madness (6:59)
Fantasy Vibrations (6:43)
Black on the Nu (5:54)
DOWNLOAD FROM FILECAT.NET >>>
One day, in Indianapolis in 1948, a nine year old Phil Ranelin made a fateful visit to his paternal grandmother's home. She was a real music buff and that afternoon, before she went to do some work out back, she told young Phillip, "Any of these records, feel free to play 'em and see what kind of music you like. Just don't scratch 'em!" That afternoon, Phillip discovered "everything from Big Maybelle to Charlie Parker."
A couple of years later, on another visit to Grandma, the topic of Phillip's future came up. He told her that he wanted to be a dentist. But then, "she painted a great picture of the life of musicians. 'They live a glamorous life, traveling the world, making a lot of money, and meeting plenty of women.' "Well, two out of three ain't bad." So, months later, when the new school year started, Phillip went to the music department, lined up to get an instrument and, since "everybody wanted to play saxophone, I got the trombone."
In 2019, Phil Ranelin can look back and take pride in the knowledge that he has fulfilled his Grandma's dream. Ranelin was recently inducted into the Indianapolis Jazz Hall of Fame, along side Naptown jazz legends like J.J. Johnson, Wes Montgomery, and longtime pal, Freddie Hubbard. Ranelin's career has been characterized by a deep commitment to his community. Instead of moving to NYC to pursue his musical future, Ranelin has made his adopted cities of Detroit and, for nearly forty years, Los Angeles, the foundation of his life. He recruited his bands from the best local musicians, as he did with Tribe in Detroit and Tribe Renaissance in LA, including many younger cats and, in this way, Ranelin nurtured the next generation of jazz musicians. And his bands played often in these cities, especially the African American neighborhoods, where he has been a vital element of the communities' creative arts scene. As a result of this devotion to the community, both Detroit and Los Angeles have given Phil Ranelin the keys to the two cities which he has called home since leaving Indiana almost 5 decades ago.
And in May of 2019, this proud and victorious jazz warrior celebrated his 80th birthday in grand style, with a sold-out musical fiesta and record release party at Zebulon Cafe, the L.A. branch of the recently shuttered, hip Brooklyn-based venue. The recording, Phil Ranelin Collected Works: 2003-2019, is a three vinyl record set (also available on CD), composed almost entirely of original compositions selected from Ranelin's five recordings for the independent label, Wide Hive Records.
The first song, "Freddie's Groove," from Inspiration (Wide Hive, 2003), pays tribute to Ranelin's childhood friend, jazz Olympian Freddie Hubbard. One day, at Hubbard's Los Angeles home, Ranelin was fooling around at the piano, playing a bit of a melody over and over when Hubbard yelled out, "Hey Ranelin, that sounds pretty good...why don't ya finish it? " He did, and eventually recorded this up tempo, hard driving tune that recalls the classic Blue Note, hard bop sound that Hubbard was so integral in creating. Opening with a flourish of horns and a rumbling of percussion, Ranelin takes the first solo, exploring the sonic limits of his instrument as he roars elephantine and whispers like lovers' caresses. The rhythm section of pianist Danny Grissett (another young Los Angeles native whom Ranelin enlisted), bassist Jeff Littleton, drummer Lorca Hart and percussionist Taumbu drive the band's steaming pace.
Also from the same CD, Ranelin is joined by tenor sax titan, Pharoah Sanders, who blows two inimical astral solos in his heartfelt, soul stirring style on "This One's For Trane." In 1967, the up and coming young trombonist, inspired by John Coltrane's recent passing, penned his first composition in honor of Coltrane. The two horns express the sadness and love they felt for their musical teacher and spiritual force.
Ranelin gets into a Latin groove with the only cover on this multi-disc recording, "Blue Bossa," from the CD, Living A New Day (Wide Hive, 2009). The tune undergoes a transformation in tempo as Ranelin slows down this upbeat Kenny Dorham jazz classic to a languid ballad. Ranelin had played this tune many times at the original tempo but felt that the slower pace "really brings out the beauty of the melody." The man caresses pure poetry from his brass instrument, forcing every listener to reflexively recall an image of deep love from their memory. Hmmmm, so tasty!
One of the valuable lessons Ranelin has learned over the years is the importance of keeping the music alive so, as a leader, the trombonist has always brought fresh young blood into his bands. On the recording, Perserverance (Wide Hive, 2011), Ranelin has two of Southern California's first call rhythm masters in bassist Henry "the Skipper" Franklin and conguero Big Black. These jazz veterans are joined by a younger generation of musicians like rising stars Mahesh Balasooriya (piano), Tony Austin (drums) and tenor saxophonist, Kamasi Washington, before he blew up into a global phenom a few years after this recording.
The title tune opens with veteran drummer and percussionist, Don Littleton creating glistening rhythms on shekere and Big Black countering with fierce African conga beats. Franklin, affectionately known as "The Skipper," joins the rhythm workout on bass, delivering a rich-toned, lion-like heart beat. And up and coming pianist Mahesh Balasooriya assertively pounds the piano's keys, perhaps channeling the Master, McCoy Tyner, as sometimes the power of his musical thrusts lifts him off the bench.
Finally, the horns come in, and the cats really get to stretch out on this modal piece. Ranelin explores the range of human emotions with his characteristic, vocal trombone "sound." The veteran trombonist cries out through his horn, perhaps acknowledging the pain and suffering of the 2005 life-threatening car accident, but he "perseveres," and soon he's blowing joyous and triumphant.
Washington opens his solo blowing like honey, slow and sweet. But the tension tangibly builds with each few bars, and ever so slowly, his tenor seems to redden with a fire that burns hotter and hotter, as if stoked by Southern California's notoriously destructive Santa Ana winds. But just as the hottest flame one day burns out, Washington begins to release the sonic and rhythmic tension, and all is well, as he reaches deep for pure saxy beauty.
The last tune, "Black on the Nu," is hard bop, straight out of the Blue Note tradition. This Ranelin original, recorded at the Inspiration session but never previously released, is so hip it could be a personal soundtrack for when you're bopping down the street with a smile on your face.
In today's world, a degree of technological exhaustion has, fortunately, finally set in, resulting in an increasing appreciation for analog vinyl recordings. In fact, recent statistics revealed that vinyl record sales just outpaced CDs for the first time since 1986. Good timing for the release of Phil Ranelin's retrospective vinyl three record set which highlights his very personal trombone sound, the swinging and heavily rhythmic pulse of his different bands, as well as his compositional and arranging skills. Indeed, Ranelin has come back from his long physical recovery to make memorable music with a variety of groups, from quintets to his larger Tribe Renaissance ensemble.
Review by Chuck Koton